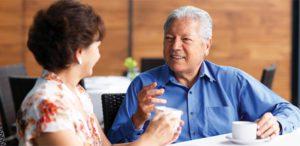 Depression is a common but serious mood disorder that affects nearly 15 million people in the United States. Depression often either goes untreated or is managed with different kinds of oral medications such as, selective serotonin reuptake inhibitors (SSRIs), serotonin-norepinephrine reuptake inhibitors (SNRIs), tricyclic antidepressants (TCAs), and monoamine oxidase inhibitors (MAOIs). Most of these medications take several weeks before a therapeutic level is reached. However, a large percentage of these patients do not respond well to them. Sometimes they just don't work and other times the side effects are so unpleasant that people stop taking them altogether.
The good news is that there are three innovative ways of managing depression that are highly effective and patients can experience results in hours instead of weeks.
Treatment #1
Ketamine Infusion Therapy
Ketamine is a safe, fast-acting anesthetic with a wonderful variety of applications to treat mental health and chronic pain. It was first synthesized in 1963 as a rapid anesthetic that supported the cardiopulmonary system and had a reduced recovery period, limiting the possibility and severity of adverse side-effects. It was so safe that it became known as a "buddy drug" during the Vietnam War since non-medical personnel could administer it on the battlefield.
In 1970, ketamine's antidepressant properties were discovered, leading to a cascade of positive studies published on its treatment of unipolar depression. Further studies have shown its efficacy for the treatment of PTSD, OCD, Bipolar Depression, Severe Anxiety, Fibromyalgia, Complex Regional Pain Syndrome, and other pain syndromes.
Approximately 70% of patients experience a significant reduction in symptoms – many during their first infusion. Now, Ketamine is widely used by psychiatrists and anesthesia providers to heal mood disorders, eliminate suicidal ideations, and alleviate chronic pain.
Treatment #2
Spravato ™ Esketamine Nasal Spray
SPRAVATO™ is the trade name for the prescription medicine Esketamine. Unlike regular Ketamine that is usually administered Intravenously (IV), SPRAVATO™ is administered intra-nasally. SPRAVATO™ was FDA approved in March of 2019 for Treatment-Resistant Depression. It is used in conjunction with an antidepressant taken by mouth and may only be administered in a certified healthcare setting. Because it is FDA approved, many health insurance carriers will cover a portion of the cost.
SPRAVATO™ targets the N-methyl-D-aspartate (NMDA) receptor and is believed to work differently than currently available oral antidepressants. Because of the risks for sedation, dissociation, and abuse and misuse, SPRAVATO™ is only available through a restricted program called the SPRAVATO™ Risk Evaluation and Mitigation Strategy (REMS) program. Therefore, SPRAVATO™ can only be administered in a healthcare setting that is certified in the SPRAVATO™ REMS Program and to patients enrolled in the program.
Treatment #3
Transcranial Magnetic Stimulation (TMS)
TMS is a non-invasive procedure for treatment-resistant depression that delivers magnetic pulses through an electroomagnetic coil to the left dorsolateral prefrontal cortex, the region of the brain associated with mood control.
In the late 18th century, Luigi Galvani and Alessandro Volta first discovered that nerves carry electrical energy within the nervous system. TMS functions by electrically stimulating dormant brain cells, enabling them to function well again.
TMS was developed in 1985 as the first noninvasive treatment capable of targeting precise regions of the brain without general anesthesia or pain.
Since then, numerous studies have been performed to demonstrate that TMS is safe and effective in the treatment of major depression. TMS was approved by the FDA in 2008 and first covered by insurance in 2013.
Alleviant Health Centers of Naples
We use an integrative holistic approach to healing using a combination of the following traditional and innovative therapies:
• Medication Management: Meet with our Psychiatric Nurse Practitioner to adjust, change or fill your prescriptions.
• Ketamine Infusion Therapy: 70% of patients experience a significant reduction in symptoms; many during the first infusion.
• Nasal Ketamine: We are a Certified SpravatoTM Healthcare Setting. FDA approved for Treatment Resistant Depression.
• Transcranial Magnetic Stimulation (TMS): FDA approved non-invasive procedure for Treatment Resistant Depression.
• Psychotherapy:  Meet with our Psychologist for individual, couples and family therapy.  Trauma therapy using Eye Movement Desensitization and Reprocessing (EMDR).
Stephen Durand moved to Naples 15 years ago to attend Wolford College where he received his training as a Certified Registered Nurse Anesthetist (CRNA) and earned a Master's degree from Florida Gulf Coast University.
Stephen and his wife Liz, who is also a Registered Nurse (RN) love working side by side.  "We experience great joy and satisfaction from helping people feel better."
Alleviant Health Centers
1575 Pine Ridge Rd., Suite 16
Naples, FL 34109
(866) 951-HEAL | alleviant.com/naples