By Gastroenterology Associates of S.W. Florida, P.A. –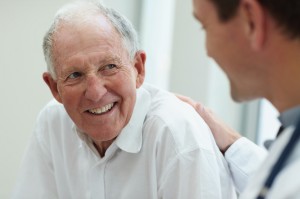 Colon cancer is a common and lethal disease. Globally, it is the third most diagnosed cancer in males and the second in females, with over 1.2 million new cases and 608,700 deaths estimated to have occurred in 2008. In the United States, both the incidence and mortality have been slowly but steadily decreasing. Annually, approximately 143,460 new cases of large bowel cancer are diagnosed, and 51,690 Americans die of colorectal cancer. This accounts for 9 percent of all cancer deaths. The numbers of diagnosis and death should continue to decrease because colon cancer is preventable.
Age is a major risk factor for colorectal cancer, with 90 percent of cases occurring after the age of 50. There is increased risk between the ages of 40 and 50, with rates increasing in each succeeding decade thereafter. The lifetime incidence of this cancer is 5 percent in patients with average risk. In the United States colorectal cancer incidence is about 25 percent higher in men than in women and is about 20 percent higher in African Americans than in whites.
The incidence is higher in patients with specific inherited conditions that predispose them to the development of this cancer. Other risk factors are personal or family history of colorectal cancer and polyps, and Inflammatory bowel disease (Ulcerative colitis and Crohn's disease). Several other conditions are known or suspected to increase the risk of colorectal cancer. These include a diet lacking fiber, obesity, Diabetes, cigarette smoking, excessive alcohol consumption, immunosuppression treatments. There are very few or no symptoms of colon polyps or early colorectal cancer.
Most of the symptoms occur once the tumor has advanced, and include bleeding, abdominal pain, change in bowel habits, weight loss, anemia. Because symptoms often don't appear until later stages of the cancer, it is important to have early screenings for this disease. The objective of regular screenings is to find and remove polyps to prevent the formation of colorectal cancer.
Preventing is easier than trying to cure this potential deadly problem. The first step in prevention is to get regular screening exams. Colonoscopy is the best exam both for screening and for removal and biopsy of polyps. It is a painless, safe and comfortable exam performed in an out-patient setting. Other screenings such as a CT exam of the colon may also be used to prevent colorectal cancer.
You can also make lifestyle changes to lower your risk. Reduce your intake of fat and calories, as well as your intake of meats and alcohol. Increase the amount of exercise you do. Experts recommend that you stop smoking and use dietary supplements to ensure that you are getting enough minerals and nutrients. You should get five servings of fruits, vegetables, and whole grains each day. There is some evidence that a baby aspirin and calcium supplements daily may help with prevention.
Colon cancer is preventable, and curable, if detected early. Talk to your doctor about regular screenings, especially if you are at age 50 or have other risk factors.
www.giaswfl.com | 239.275.8882