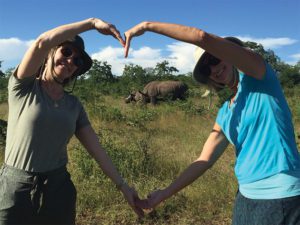 Luxury Travel Consultant, Shelly Krygier was planning to take her husband on a very special Birthday trip to Africa for his 60th. Meanwhile, Shelly and her Aunt Marion found an opportunity to travel together on a cruise from Singapore to Cape Town. Shelly was able to combine both trips into one 44-day around the world adventure.
"Asia was on my bucket list, and since we were going to be leaving from Singapore, I decided to add Hong Kong to our travels too," said Shelly.
While in Hong Kong, a private tour took them around the city by bus, taxi, ferry and subway visiting Victoria Peak on Hong Kong Island, and the Chin Lin Nunnery, a Budapest temple on Diamond Hill in Kowloon. The nunnery offered magnificent gardens and a peaceful, serene oasis amongst the big city life of Hong Kong. From there they traveled to Singapore before setting sail for their cruise on the Regent Seven Seas Navigator, a luxury liner.
One of Shelly's favorite ways of experiencing different destinations is by eating at local restaurants. From Dim Sum at a local diner in Hong Kong to the best Cantonese meal of her life with a 10-course sample tasting in the Mandarin Oriental Hotel's Cherry Garden to enjoying the famous Durban Oysters on the Ocean Terrace at Red Carnation's Oyster Box Hotel in Durban.
The cruise liner is a 490-passenger cruise ship, and Shelly and her aunt joined the ship for a segment of the world cruise. Their cruise was 25 nights from Singapore to Cape Town, and every second of it was luxurious. Cruising is a fabulous way to socialize, relax, enjoy entertainment and lectures, and you only have to unpack once." Shelly exclaimed.
Regent Seven Seas offers Canyon Ranch spa selections on their menu for healthy eating. Noshing on salads, fresh soups, gourmet choices of salmon, lobster and chicken, Shelly was able to eat well and not have to worry about deviating from her healthy lifestyle. With a great fitness center, exercise classes, and group sunrise walks before breakfast, Regent Cruises has thought of everything to make your cruise better than a home away from home.
The ship had two distinctive lecturers, Terry Bishop and Michael Scott, who everyone clamored to listen to their informative and entertaining history and knowledge of the next day's ports. This made it easy to choose which tour would suit your activity level and desires best.
The unique experiences continued, as they explored the modern city of Kuala Lumpur, Thailand, Sri Lanka, Maldives, Seychelles, and several cities in South Africa, and to their final destination of Cape Town. Who could ask for a better journey? With the well-planned details, lavish cruise line and amenities, being called by your name by the staff and other passengers, this is what most of us long for in an elite travel experience like a world cruise. "Everywhere we visited, we had local guides that knew the history, politics, and cultures of the area, giving us insider information as only a local can."
Once they arrived in Cape Town, the two ladies met up with their husbands and two other friends from California that have always wanted to visit Africa. Abercrombie and Kent was their land tour guide for the African portion of their trip. They are well-known for their unique accommodations and well-planned excursions. What a fantastic birthday for Shelly's husband Kevin to experience.
The couples took a cable car to the top of Table Mountain, visited the Cape of Good Hope, 12 Apostles Peaks and enjoyed lunch in the Constantia wine area. Shelly told us that she enjoys having the opportunity to absorb the culture of places for longer periods of time and for multiple days on land tours. They stayed in Cape Town for two nights before heading to Johannesburg. After "Joburg", they flew to Livingstone, Zambia, staying near the world-famous Victoria Falls on a quiet bend of the Zambezi River. Mosi-oa-Tunya, meaning The Smoke That Thunders, is the original name for Victoria Falls, looked like a giant white cloud coming up from the ground. Shelly also booked a private helicopter tour to view the massive falls from the air, which she highly recommends due to its size and scope.
Continuing to Chobe and Moremi National Parks and the Okavango Delta in Botswana, amongst the lush green landscape, they saw all of the "Big Five" African Animals. While there, they had the unique opportunity to talk Living With Elephants caretakers, Doug and Sandi Groves, then walk with two orphaned elephants, Jabu and Morula. Jabu is a bull elephant, enormous, but docile. They walked gently with Jabu while holding his trunk, and the experience was life-changing. From rhinos, elephants, lions, and leopards, they were able to admire the wildlife from both afar and up close during their journey.
During one game drive, on a six-passenger custom 4X4 with open sides, an elephant came over to the vehicle and put his trunk inside to smell the passengers and then peacefully just walked away. When the animal sees the vehicles, they see them as part of the landscape because they're so used to them. On another game drive, they came within feet of a pride of lions, a mother cheetah with three young cheetahs stalking cape buffalo at a watering hole, a den of young hyenas playing, and herds of elephants. "The animals are so acclimated that they don't even look at you and are completely unfazed by the vehicle."
At the end of the game-drive is a Sundowner. This is a traditional African experience, but with the utmost elegance of beautiful spreads of champagne, and appetizers while you sit and watch the red and orange incandescent skies glow. Shelly says the sunsets behind acacia trees in Africa are breathtakingly gorgeous!
The Sanctuary camp accommodations provided by Abercrombie and Kent are all exceptional. In Zambia, they stayed in a luxury tree house resort called Sussi and Chuma, named for the caretakers of David Livingston who, after he died in Zambia, carried him to the coast of Tanzania where he was transported back to England. At the resort, there is an elevated walkway between the tree houses and everyone has a patio overlooking the Zambezi river, where, if you are lucky, you can watch hippos come out to graze on the grass beneath. The tree houses are luxurious with stunning showers, mosquito netting around the bed, air-conditioning, and authentic African Decor.
At the end of their trip, they stayed at the Chief's Camp in Botswana. The accommodations were among the best Shelly had ever experienced in all her years of travel. They stayed in 1500 square feet luxury bush pavilions with their open-air verandas to watch for wildlife. Each pavilion had its own private plunge pool, luxurious outdoor showers, and indoor baths as well with soaking tubs.
Security personnel walk the grounds 24/7 to make sure you stay safe. Sitting on the veranda, one evening Shelly and Kevin noticed that impala kept running between their pavilion to the next one over. At dinner, the staff explained that a leopard had been on the premises; so having security walk you to and fro after dusk is of the utmost importance.
"We left Africa absolutely wanting more! When you go there, you leave a piece of your heart in their land, and Africa's people, experiences, and sights leave a bit of themselves with you. No one wanted to leave after our 12 days there; we all wanted more."
Abercrombie and Kent are well known for their luxury, as well as their philanthropy. They give back to the locals with programs, jobs, and business to help communities thrive. While they were in Kasane, Shelly and her group visited an Abercrombie and Kent founded medical facility and met some of the doctors and patients. They also visited several local villages with mud huts. The locals there were thrilled to have them visit. They were able to support them by purchasing some of their homemade goods, like scarfs, necklaces, beadwork, and souvenirs. Shelly told us, "The people in Africa appreciate your visit and also value their countries history, resources, and wildlife."
When we asked Shelly why someone should consider this trip, she did not hesitate to answer.
"Cruising is a relaxing way to see many cultures in short snippets while in port, staying in one fabulous cabin aboard a luxury liner. Exploring Singapore to Cape Town was a dream come true and allowed for many memorable experiences. When it comes to our land tour, to stay and absorb Africa's culture for multiple nights in each location was the best experience. Everyone from our group wants to return to Africa in the near future." Shelly's hoping for a third trip to Africa soon.
"The great thing about cruising or land tours is the endless options of destinations, whether you want a 7-day cruise or an extended world cruise. Wherever you want to travel, we can make your travel hopes and dreams come true."
If you would like to learn more about your opportunity visit the world, Preferred Travel of Naples is the best place to start. With the highly traveled and experienced staff to guide you, rest assured that you will be in the best hands.
To find out more about this or other fascinating destinations, please contact
Preferred Travel of Naples at 239-261-1177 or visit preferrednaples.com.