By John P. Landi, MD, FACS, RPVI, RPhS, Diplomate of The American Board of Phlebology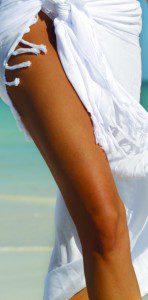 Besides varicose and spider veins, the next most common issue that I see is leg swelling. To find the reason for leg swelling is often a not so easy task since there are many possible causes, some of which include varicose veins, deep venous insufficiency, chronic venous insufficiency, lymphedema, trauma, infection, tumor and even many kinds of medications. To diagnose the reason for leg swelling requires a systematic approach, including a thorough history and physical exam, usually a venous ultrasound and sometimes even CAT Scans, MRI's or dye testing.
Common Causes
|One of the more common causes of leg swelling is chronic venous insufficiency. This gets its name from the fact that it is a chronic condition (usually occurring over many years), and involves poorly functioning veins. Veins take blood back to the heart through a series of microscopic valves within the veins. If these valves malfunction, then the blood backs up through the valves, resulting in increased pressure on the veins. This increased pressure is the highest at the ankles leading to leaking of the pigment outside of the veins and causing the ankle and shin to become brown. Over time, the brownish discoloration extends from the ankles up to the calves (I am certain that many of you have seen people with brown colored ankles and calves).
CHRONIC VENOUS INSUFFICIENCY
This discolored shin becomes weak and prone to infection and ultimately ulceration.
Once this occurs, this is called a chronic venous ulcer. The chronic process that I just described usually occurs over years and will also lead to chronic leg swelling.
Advanced Laser Therapy Treatment
Up until 10 years ago, the mainstays of treatment were support stockings and local care of the ulcer to try to heal it. Currently, however, laser therapy has become the state of the art treatment for chronic venous insufficiency, venous valvular insufficiency and venous ulcerations. Although support stockings still play a major role in reducing the venous pressure, the key to treatment is to seal the leaking vein valves causing the increased back pressure. This can be done with a laser as an office procedure under local anesthesia with a high success rate. Following the laser treatment and by using methods to keep down the venous pressure, many patients can achieve both healing of the ulcer and decrease of their leg swelling.
About Dr. Landi
Dr. Landi is medical director of Vanish Vein and Laser Center, a state of the art, dedicated vein treatment center. He is one of less than 2,000 physicians worldwide to achieve the designation of Diplomate of the American Board of Venous and Lymphatic Medicine. He is a fellow of the American College of Surgeons, a fellowship trained vascular surgeon, Board Certified in General Surgery and has achieved both the RPVI and RPhS certifications in vascular ultrasound.
To learn more or to schedule an appointment, please call Vanish Vein and Laser Center at 239-403-0800 or visit us online at www.vanishvein.com.