Many Americans do not understand the role that cholesterol—a fat-like substance found in all cells of the body—plays in heart health and heart disease. When there is too much cholesterol in the blood, cholesterol can build up on artery walls and slow or stop blood flow to the heart. Here's what you need to know . . .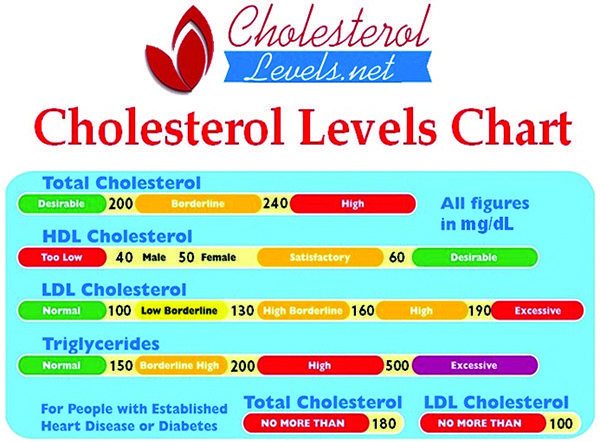 To understand high blood cholesterol it helps to learn about cholesterol, a waxy, fat-like substance found throughout the body.
Our bodies need some cholesterol to make hormones, vitamin D, and substances that help digest foods. Our bodies make all the cholesterol we need. However, cholesterol also is found in some of the foods we eat.
Cholesterol travels through the bloodstream in small packages called lipoproteins. These packages are made of fat (lipids) on the inside and proteins on the outside. Two main kinds of lipoproteins carry cholesterol throughout the body:
HDL (good) cholesterol
With HDL cholesterol, higher levels are better. Low HDL cholesterol puts you at higher risk for heart disease. People with high blood triglycerides usually also have lower HDL cholesterol. Genetic factors, type 2 diabetes, smoking, being overweight and being sedentary can all result in lower HDL cholesterol.
LDL (bad) cholesterol
A low LDL cholesterol level is considered good for your heart health. However, your LDL number should no longer be the main factor in guiding treatment to prevent heart attack and stroke, according to new guidelines from the American Heart Association. For patients taking statins, the guidelines say they no longer need to get LDL cholesterol levels down to a specific target number. A diet high in saturated and trans fats raises LDL cholesterol.
Having healthy levels of both types of lipoproteins is important.
High Blood Cholesterol and Triglycerides
Triglyceride is the most common type of fat in the body. Normal triglyceride levels vary by age and sex. A high triglyceride level combined with low HDL cholesterol or high LDL cholesterol is associated with atherosclerosis, the buildup of fatty deposits in artery walls that increases the risk for heart attack and stroke.
Know Your Cholesterol Numbers
Keeping your cholesterol levels healthy is a great way to keep your heart healthy – and lower your chances of getting heart disease or having a stroke.
But first, you have to know your cholesterol numbers.
The American Heart Association recommends all adults age 20 or older have their cholesterol, and other traditional risk factors, checked every four to six years.
Your test report will show your cholesterol levels in milligrams per deciliter of blood (mg/dL). Your total cholesterol and HDL (good) cholesterol are among numerous factors your doctor can use to predict your lifetime or 10-year risk for a heart attack or stroke. To determine how your cholesterol levels affect your risk of heart disease, your doctor will also take into account other risk factors such as age, family history, smoking and high blood pressure.
High Cholesterol and Heart Disease
People who have high blood cholesterol have a greater chance of getting coronary heart disease, also called coronary artery disease. Coronary heart disease is a condition in which plaque builds up inside the coronary (heart) arteries. Plaque is made up of cholesterol, fat, calcium, and other substances found in the blood. When plaque builds up in the arteries, the condition is called atherosclerosis. Atherosclerosis can lead to serious problems, including heart attack, stroke, or even death. The higher the level of LDL cholesterol in your blood, the GREATER your chance is of developing heart disease. The higher the level of HDL cholesterol in your blood, the LOWER your chance is of developing heart disease.
This information is for educational purposes only and is not intended to replace the advice of your doctor or health care provider. We encourage you to discuss with your doctor any questions or concerns you may have.
Erick E. Calderon, MD, FACC, FSCAI
Dr. Calderon is a board certified cardiologist.  He attended Francisco Marroquin University in Guatemala   followed   by   resi-
dencies and fellowship at University of Tennessee School of Medicine in Memphis, TN.
Certifications:
– Board Certified in Internal Medicine
– Diplomate of the American Board of Nuclear Cardiology
– Fellow of the American College of Cardiology
– Fellow of the American Society of Coronary Angiography and Intervention.
Dr. Calderon brings national expertise in the diagnosis, medical and minimally invasive approach to Cardiovascular Diseases.  He is a member of the American Medical Association, American College of Cardiology, American Heart Association and Manatee County Chamber of Commerce.
Call To Schedule Your Appointment Today!
(941) 907-1113