By Dental Crown in an Hour –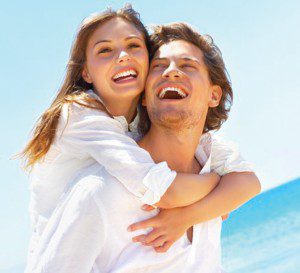 Does this story sound familiar? It was six days before Christmas and I was having a merry time at a festive gathering. Out came the food and drinks and in my zeal to sample a holiday treat I broke my two front teeth. I gasped in terror when I saw how much my smile changed. Believe it or not, the next day I was sitting in the dental chair getting two porcelain crowns made.
While I was waiting to get numb, I was amazed at how much my broken teeth affected how I felt about myself, and the way I bite and chew my food. Cosmetics aside, repairing broken teeth is important. Teeth play key roles in your ability to eat, speak and stay health.
Typically getting a dental crown involves tooth drilling, hastily made temporaries and a few weeks later another visit for fittings. However, with the advent of CAD/CAM dentistry the experience is entirely different. Instead of waiting on a laboratory to return your case, your dentist can design and fabricate your crowns in a single visit. Even more impressive is that in most cases this can all be completed without impressions, no mess and in about an hour while you wait in the office.
At Dental Crown in an Hour we use the latest CAD/CAM technology available and support American made products by our commitment to E4D Technology. To better serve you we employ a full time ceramist to custom shade and tailor your restorations for an exact match to your existing teeth.
We are proud sponsors of Operation Smile! A world-wide medical charity which provides free surgeries for children and young adults born with clefts and other facial deformities.
Milled restorations come with a one year guarantee for free. Extended warranties are also available for $99.00 per year up to five years.
Don't let a chipped or broken tooth cause you any more worries. Call today to have your tooth repaired at Dental Crown in an Hour!
Our everyday low price for porcelain crowns, veneers and fillings, (inlays/onlays) is just $495.00!
Custom stained restorations are just $595.00.
9960 Business Circle #14
Naples, FL 34112