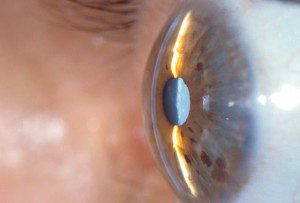 Studies suggest that everyone who lives long enough will get cataracts, although there may be some reduced risk for individuals who eat properly, avoid sun exposure and do not smoke.
A cataract is not a disease but an aging process similar to graying hair. As the eye ages, the normal lens inside the eye becomes cloudy. The lens focuses light rays on the retina at the back of the eye to produce a sharp image of what we see. When the lens becomes cloudy, the light rays cannot pass easily through it, and the image becomes blurry. It can be compared to a window that is frosted or "fogged" with steam.
There are many misconceptions about a cataract. A cataract is:
• Not a film or growth over the eye
• Not caused by overusing the eyes
• Not a cancer
• Not spread from one eye to the other
• Not a cause of irreversible blindness
What causes a cataract? Cataracts usually develop as part of the aging process. Other causes include:
• Family history
• Medical problems, such as diabetes
• Injury to the eye
• Medications, such as steroids
• Long-term, unprotected exposure to sunlight
• Previous eye surgery
The amount and pattern of cloudiness within the lens can vary. If the cloudiness is not near the center of the lens, you may not be aware that a cataract is present. However, many people experience common symptoms, which include:
• A painless blurring of vision
• Glare or light sensitivity
• Frequent eyeglass prescription changes
• Double vision in one eye
• Needing brighter light to read
• Fading or yellowing of colors
A thorough eye examination can detect the presence and extent of a cataract, as well as other conditions that may be causing blurred vision or discomfort.
To make an appointment for your cataract evaluation online, visit www.bettervision.net or call the Punta Gorda office of Frantz EyeCare at 941-505-2020.
Jonathan M. Frantz, MD, FACS, is named in Best Doctors in America and The Guide to America's Top Ophthalmologists. He and his team of doctors at Frantz EyeCare offer a broad spectrum of patient-focused comprehensive care from eye exams and eyewear to bladeless laser cataract removal, treatment of eye diseases,, bladeless iLASIK, and eyelid surgery with office locations in Fort Myers, Naples, Cape Coral, Punta Gorda, and Lehigh Acres.