By Thom Braun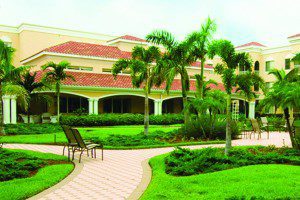 According to U.S. Department of Health and Human Service on Women's Health, sixty-one percent of caregivers are women. Most are adult children caring for an elderly parent, while others are wives providing care for a spouse.
Although well intended, women who neglect themselves can offer suffer from "caregiver burnout" which may have devastating long-term consequences for both the caregiver and their parent/spouse receiving care.
Recent studies have found that elderly spouses serving as caregivers experience higher rates of influenza and pneumonia. Also, feeling overwhelmed for extended periods can lead to depression, which is associated with heart disease and more debilitating outcomes for patients who already have heart disease.
At The Carlisle Naples, a luxury retirement community, our team understands the stress and emotional toll caregiving can create. Our independent and assisted living campus—located off Airport Pulling Road—offers a wealth of services and amenities to help older adults flourish while easing day-to-day caregiver responsibilities.
Our award-winning assisted living community is CARF-accredited. Similar to the five-star rating of the hospitality industry, this certification is the highest level of accreditation that can be awarded to a retirement community and shows The Carlisle's substantial conformance to the rigorous standards established by CARF.
The Carlisle holds an Extended Congregate Care (ECC) license as well, which is held in conjunction with the standard assisted living licensure. This allows The Carlisle to provide additional supportive and nursing services to residents who would otherwise need to transition to a skilled nursing facility.
"The ECC licensure provides more options for our assisted living residents who may prefer to remain in a familiar, residential setting for as long as possible," said Executive Director Bill Diamond. "They, along with their families, have peace of mind knowing extended congregate care services are available should their needs change."
The Carlisle is especially suited for wives serving in a caregiving role. Their spouses receive 24-hour access to a team of well-trained professionals and assistance with activities of daily living (bathing, dressing, medication assistance, etc.). Without the day-to-day burdens of providing care, the couple now has more time to spend on what matters most: enjoying quality time together.
Many older adults often thrive upon moving to a senior living community. Seniors receiving assistance from spouses and/or adult children may often experience feelings of guilt or fear they are preventing the caregiver from living a more active life. With these mental roadblocks removed, they are better able to focus on their overall wellbeing and make positive strides.
The Carlisle offers an entire team dedicated to providing exceptional care and service to seniors and their families. Online websites such as the National Caregivers Library and the U.S. Department of Health and Human Service can provide additional resources.
"Caregiving can be difficult for even the most patient, loving person," added Diamond. "At The Carlisle, we provide a comprehensive menu of licensed assisted living care services that blends freedom and peace of mind into an affordable lifestyle. It's a win-win for both residents and caregivers."
Located at 6945 Carlisle Court in Naples, The Carlisle offers spacious one-and two-bedroom residences include lifetime care and maintenance, weekly housekeeping and flat linen services, basic cable TV, all utilities except telephone, and a complimentary full breakfast plus choice of lunch or dinner in the community's gourmet-style restaurant.
The Carlisle, a luxury, resort-style senior living community in North Naples, offers both Independent and Assisted Living lifestyles. Available on a monthly fee basis, the ECC-licensed and CARF-accredited community boasts a full range of services and amenities including 12-hour restaurant dining, housekeeping, transportation and activities. Located on Airport-Pulling Road, between Pine Ridge and Immokalee Roads, the award-winning community's lush tropical environment is highlighted with meandering walking paths around three lakes and tranquility gardens. For more information or to schedule a tour, please call Director of Marketing Thom Braun at 239-221-0017.
Luxury Rental Retirement Living
6945 Carlisle Court, Naples, FL  34109
239-221-0017 . www.srgseniorliving.com