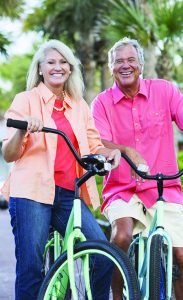 A cancer diagnosis changes everything; it is, perhaps, the most feared diagnosis a doctor can make Any patient in that situation wants to be assured they have access to the most advanced treatments, delivered by a physician who is both experienced and compassionate. And it helps tremendously if treatment can be administered in a community setting, close to home, so the patient can be surrounded by family and friends.
Florida Cancer Specialists & Research Institute (FCS)
has put together a network of expert, board-certified physicians who bring world‐class cancer treatments to local communities, both large and small, across the state. With nearly 100 locations, FCS is the largest independent oncology/ hematology group in the United States. That status puts the practice on the leading edge of clinical trial research and gives FCS physicians access to the newest, most innovative treatments.
What Causes Cancer?  
All cancers are caused by genetic changes in the DNA (deoxyribonucleic acid) inside our cells.  DNA is the chemical in our cells that contains the genetic information needed for many factors, including how cells function.  Just as every human being has unique DNA, or a distinctive genetic code, so does every malignant tumor. Cancer actually develops due to a genetic mutation, or damage to the DNA in our cells.
Most gene mutations occur after birth; however, about
five percent of all cancers can be traced to a family history. There are a number of factors that can cause gene mutations, including smoking, long exposure to the sun, certain viruses, and cancer-causing chemicals, among others. No matter what type of cancer or what the cause of cancer, the earlier it is detected, the more treatable it usually is and the better the outcome for the patient.
March is Colorectal Cancer Awareness Month
Colorectal cancer is still the third-leading cause of cancer-related deaths in women in the United States and the second-leading cause in men, according to the American Cancer Society (ACS).  However, the number of deaths from colorectal cancer has been dropping steadily in both men and women for several decades.  One of the reasons for this decline is early detection. ACS guidelines recommend that, starting at age 50, people who are not at an increased risk due to family history, get a screening for colorectal cancer.
Colon cancer usually begins as abnormal cells in the colon that grow into polyps.  Most polyps take 10-15 years before developing into cancer.  With regular screenings, most polyps can be found and removed before they turn into cancer.  If you have a family history of colorectal polyps or cancer, talk with your doctor about how to reduce your risk. You may want to begin screening earlier than age 50, or even receive genetic counseling to review your family medical history.
Doctors estimate that if everyone over the age of 50 had regular screenings to detect pre-cancerous polyps, we could reduce the incidence of this disease by 50%.  In addition to early detection, treatment for colorectal cancer has vastly improved over the last few decades.
As a result, there are now more than a million survivors of colorectal cancer in the United States.
Clinical Trials Lead to Tomorrow's
Treatments and Cures
Clinical trial research is at the heart of improving cancer treatment and Florida Cancer Specialists is a setting a benchmark for clinical trials at its community-based facilities. FCS has built a clinical research program that includes a Drug Development Unit dedicated exclusively to Phase 1 (first in human) clinical trials and rivals many large academic medical centers. Through a strategic partnership with Sarah Cannon, one of the world's leading clinical trial organizations, FCS offers more access to national clinical trials than any other oncology practice in Florida. In 2016, 84% of all new cancer drugs were studied in clinical trials with FCS participation, prior to approval.
Florida Cancer Specialists treats patients with all types of cancer, and offers a number of services, such as an in-house specialty pharmacy, an in-house pathology lab and financial counselors at every location, that deliver the most advanced and personalized care in your local community.
Bonita Springs
9776 Bonita Beach Rd SE, Suite 201A
Bonita Springs, FL 34135
Naples – Goodlette
1100 Goodlette Road
Naples, FL 34102
Naples – Napa Ridge
6360 Pine Ridge Road,
Suite 201
Naples, FL 34119
Naples – Sierra Meadows
8350 Sierra Meadows Blvd
Naples, Fl 34114
Naples West
681 4th Ave North
Naples, Fl 34102
For more information, visit FLCancer.com