By Eric M. Folkens, M.D., Family Medicine
Bradenton/Lakewood Ranch/Sarasota Urgent Care Walk-In Clinics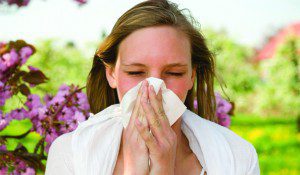 April showers bring May flowers and pollen! For those who suffer with seasonal allergies, there is no need to announce that spring allergy season is upon us because you are likely already experiencing some of the unwanted symptoms. But don't worry, there are ways to fight the annoyance so you can be as allergy-free as possible this year.
Sometimes it is hard to distinguish whether the symptoms you are experiencing are due to a cold or allergies. The clear difference between the two is colds usually tend to be short-lived whereas allergies can run for weeks or even months. Also, allergies don't cause fevers and aren't bacterial infections. The most common allergy is pollen, which causes symptoms to flare-up due to the pollen grains floating through the air. Allergies tend to occur when the seasons change and you may notice your allergies approaching at almost the exact same time every year.
Those who can tell the seasons changed without even looking at the calendar experience some of the following symptoms:
. Runny and stuffy nose
. Watery eyes
. Sneezing
. Sore throat
. Coughing
. Itchy eyes and nose
. Dark circles under the eyes
. Fatigue
Allergies occur when our immune system responds abnormally to these allergens, releasing substances such as histamine. It is not exactly clear why some people's immune systems react this way.
Treating Seasonal Allergies
There are many measures that can be taken to treat seasonal allergies. Avoidance is key. If your allergy symptoms are severe, stay indoors as much as possible when the pollen count is high. During the spring, it may be a good idea for those with allergies to change their clothing after being outside for extended periods of time because pollen lingers on fabrics long after going inside. It is also recommended that you keep your windows closed when the pollen count is high. The pollen count is measured by several organizations and can be easily found online for free. It is also sometimes reported on the local news.
There are several over-the-counter options available that are effective for controlling mild to moderate allergy symptoms. When choosing which over-the-counter product to use, keep the following information in mind. Antihistamines reduce sneezing, sniffling, and itching by blocking the action of histamine (the substance produced during an allergic reaction) in the body. Decongestants clear mucus out of the nasal passageways to relieve congestion and swelling. Decongestants may elevate blood pressure and heart rate, so check in with your doctor to make sure that it is safe for you to take these.
Eye drops will relieve itchy eyes and prescription nasal sprays can be used to stop inflammation that causes the allergic reactions of sneezing and runny noses.
Even though you can buy some allergy medications without a prescription, it's a good idea to talk to an physician first to ensure sure you choose the right medication for your specific symptoms. Always remember to read the packaging label as some of these products are only meant to be used for a few days.
While eye drops, nasal sprays and over-the-counter products may be effective for some, others may desire relief without any type of medication. If you find prefer to treat symptoms more naturally, using saline sprays and cleaning the nasal passage with a Neti pot may help alleviate allergy symptoms.
If seasonal allergies are affecting your ability to enjoy the outdoors, seek professional treatment for your allergy symptoms from the nearest Urgent Care Center.
Our practitioners can offer tips on how to breeze through allergy season and prescribe medication if needed. Taking medicine may not be enough in some cases, which is why we also educate our patients on proactive ways to avoid allergy flare-ups.
Sarasota Urgent Care West
1435 South Tamiami Trail, Sarasota, Fl 34239
(941) 554-4301
Facebook.com/SarasotaUrgentCareWest
www.sarasotaurgentcare.net
Bradenton Urgent Care
4647 Manatee Avenue West, Bradenton, Fl  34209
(941) 745-5999
Facebook.com/Bradenton Urgent Care
www.BradentonUrgentCare.com
Lakewood Ranch Urgent Care
9908 SR 64 East, Bradenton, Fl 34212
(941) 747-8600
Facebook.com/Lakewood Ranch Urgent Care
www.LWRUC.com
Sarasota Urgent Care
6272 Lake Osprey Drive, Sarasota, Fl 34240
(941) 907-2800
Facebook.com/Sarasota Urgent Care
www.SarasotaUrgentCare.com