By Lisa Hotaling, PT –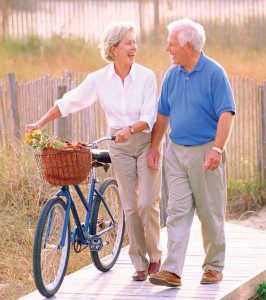 Aprogressive disorder of the nervous system resulting in loss of dopamine-producing brain cells; Parkinson's disease (PD) is the second most common degenerative brain disorder, second only to Alzheimer disease. Patients diagnosed with PD may experience one or more of these symptoms: tremor, slowed movement (bradykinesia), rigidity in the muscles, altered posture and balance, changes in speech, freezing or difficulty walking, changes in writing, and decreased facial expression. Unfortunately there is no cure for Parkinson's at this time, however medications and physical therapy are often used to minimize the effects of the disease.
Research has proven that physical therapy can help those with PD to compensate for the changes brought about by the condition. This kind of compensatory therapy includes learning about new movement techniques, strategies, and equipment. A physical therapist can teach you proper exercises to strengthen and loosen muscles. The goal of physical therapy for Parkinson's patients is to improve independence and quality of life by increasing movement and function and relieving pain associated with the disease.
Physical therapy can help with:
Balance problems
Lack of coordination
Fatigue
Pain
Gait
Immobility
Weakness
Physical therapy often centers on improving safe functional mobility and maintaining ease of movement in people with PD. Learning proper exercise techniques is one facet of treatment that can help control symptoms of the disease and improve movement. A physical therapist may recommend specific programs and exercises to help control the symptoms of PD and to improve mobility. One such program that has proven to be successful in helping Parkinson's patients is the LSVT BIG program.
LSVT BIG
In 1986, Dr. Cynthia Fox and Dr. Lorraine Ramig developed a program called LSVT LOUD to assist patient's with Parkinson's disease to speak louder and be heard. Years later, they developed a program called LSVT BIG, which addresses the limb movement in people with Parkinson's disease. LSVT BIG is an intensive amplitude-based exercise program for the limb motor system. It uses exercise to re-educate the sensorimotor system. Research has shown that there are principles of exercise that drive activity-dependent neural plasticity and can improve brain function and slow disease progression.
Parkinson's patients have sensory deficits and are not aware that their motions have become small. In the LSVT BIG program, the PRIMARY FOCUS IS AMPLITUDE. Certified physical therapists teach patients to use bigger movements automatically in everyday living with long-term carryover. The protocol is intensive, with many repetitions of core movements that are used in daily living. Patient's are seen four consecutive days per week for four weeks with homework practice all 30 days of the month. This type of practice is necessary to optimize learning and carryover of your better movement into everyday life. Research shows that early intervention is key, because exercise is proven to increase neurotrophins that protect vulnerable, but not yet dead neurons in the brain.
Parkinson's disease can have a profound effect on your functional ability and movement. While there is no cure, a well-planned and executed physical therapy evaluation can help guide you to the proper treatment to help manage symptoms while improving safe, functional mobility.
If you have been diagnosed with Parkinson's disease start exercising NOW – exercise and physical therapy are best initiated at diagnosis, when it may have the most impact on quality of life. Request a referral from you doctor today, to get the physical therapy that you need to improve all of your tomorrows.
For more information on the LSVT BIG program, please contact Lisa Hotaling, certified LSVT BIG therapist, with Request Physical Therapy at 941-896-9768.
Lisa Hotaling, PT graduated from the University of Florida with a BS in Neurobiological Sciences and a BS in Physical Therapy. She has over 13 years of experience in outpatient physical therapy and enjoys treating a wide variety of neurological and orthopedic conditions. In addition to being a certified LSVT BIG therapist, she has experience with TMJ and pelvic floor rehabilitation and is trained in craniosacral therapy and Pilates. Lisa believes in individualized care unique to each of her patients, as well as a hands-on approach to therapy.
2722 Manatee Ave W, #2
Bradenton
(941) 744-9046
701 Manatee Avenue West
Bradenton
(941) 567-6287
1922 53rd Avenue East
Bradenton
(941) 896-9768
506 4th Ave West
Palmetto FL, 34221
(941) 729-1800