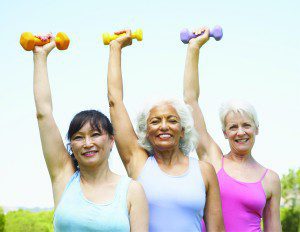 As you age, staying active is actually more important than it was in your younger years. Not only will you have more energy, but the overall quality of your life will greatly improve. Joints and muscles will becoming stronger, as well as your brain, which in turn can add years to your life and  make you feel great. At American House Senior Living Communities, we take pride in offering enriching programs to all of our residents.  Here are a few tips on getting started, figuring out which activities are right for you and some of the amazing benefits of staying active.
Starting a Routine
Whether you are a 55 year old or a high school football player, starting a routine is the most challenging part of any work out. Some say it takes up to three weeks of daily exercise to make it a habit. Although that may be statistically true, it can be very difficult, not just for seniors. Instead of trying to go "all out" right off the bat, it's good to work your way up to a routine. Start by doing an activity a few times a week at the same time each day. Eventually you'll start to feel the need to do it more and more.
Finding the Right Activity
When most people hear the term "get active", words like working out and gym are the first to come to mind. This is not the case at all! While gyms are a great way to stay active and fit, there are a lot of other options. Keep in mind; it's best to consult with a doctor or fitness professional before you start any routine. Below are a few ideas to get the ball rolling:
• Taking the stairs more
• Hit the links! Join a golf league around your community (and try using a pull cart)
• Try low impact exercises, like yoga or aerobics
• Simply go for a walk on nice daysThe most important thing, as a senior, is to find something you enjoy so it doesn't even feel like an exercise. Also, take it slow at the start. As you age your body needs a little bit of time to warm up before you jump right into a routine.
Benefits
The benefits to staying active are incredible. Here are just a few things you can expect:
• Increased  mobility and balance
• Avoided weight gain
• Improved  immune system
• Sharpened and more active brain
• Increased  self confidence
Growing older doesn't have to mean winding down. In fact, now is the time to get active!
American House – Senior Living
Accepting Reservations
Opening Spring 2015
239-206-8587
11400 Longfellow Lane, Bonita Springs, FL