By Kevin Kennedy, Ed.D., Coordinator, Career Services
Florida SouthWestern State College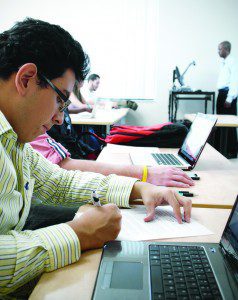 For much of the 20th century, a high school diploma was enough to assure employers that job applicants could handle and complete the most basic tasks.  In fact, many large companies provided internal training and developmental programs for recent high school graduates.  Americans were able to enjoy a long and successful career, working for the same company and getting the "gold watch" at their retirement party.
Times have changed and continue to change with the global shifts in the employment market, and have ended many of the former traditions.  Now, very few employees experience the longevity of working for only one or two employers throughout their career.  Today, the trend is that most job seekers will change their career path at least seven times before they reach their retirement age.
Employees pursue specific career opportunities; the requirements for entry-level positions have become more complex.  More and more employers rely on employees to develop their own skills before joining the company.  The demand for a college degree has increased significantly to meet these new requirements.
As career seekers pursue more specific career opportunities, the entry-level requirements become more complex.  Trade and technical fields require new workers to earn a two-year degree before joining the company.
Today, more jobs expect greater interaction with clients or customers and are requiring a bachelor's degree.  Many human resource agencies are seeking employees who have completed their four-year degrees, since they possess specific skills to complete detailed tasks as well as the broad cultural knowledge relating to colleagues and clients.
Many are not able to afford a college degree right after high school without financial assistance.  When it comes to college costs, there are several options to help finance their education.  Students can apply for FAFSA, which is the Free Application for Federal Student Aid and it can be found online at www.fafsa.ed.gov.   This site also offers good information about grants, loans and work-study funds. Also, students should review the college website to learn about possible scholarship opportunities, and contact a representative in Admissions or Financial Aid for additional options.
College degree programs provide critical skills needed for today's workforce.
In some cases, those who don't do well in high school can find satisfaction in the work force.  Without  the classroom environment, these individuals can find opportunities that challenge and inspire them to succeed on their own. Not having a college degree does not have to restrict a career choice.  Many seasoned professionals begin their careers in customer service, retail  sales  or  other positions affording onthe-job training.
Colleges and universities have begun to emphasize work experience as an important component of their degree requirements.  Depending on the college major, one might find the requirement of obtaining a professional work experience while attending classes. These opportunities can consist of internships, study programs, co-operative work placements and apprenticeships.  Each opportunity of placement offers different benefits and these benefits afford the student with strong reputations early in their careers.
New educational technology has revolutionized the way a student gets his or her college degree.  Now, instead of choosing to pursue school or work, a growing number of adult professionals can more easily  balance  the  demands of both.
The job market today rewards workers who can demonstrate the ability to work independently and manage their own time.
What will the future hold for the workforce?  The answer lies in the future of our educational institutions  and work related endeavors.  With the ever changing global challenges that workers are faced with today, it's imperative that workers are ready to meet the demands so they too can earn that "gold watch" at the end of their careers.
Florida Southwestern State Collage
www.FSW.edu