By Amy Hilliard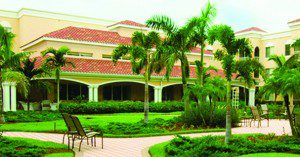 Right". Created by the Academy of Nutrition and Dietetics, the campaign was formed to focus attention on the importance of making informed food choices and developing sound eating and physical activity habits.
For older adults, good nutrition is especially important. As we age, our bodies process food differently. This in turn can affect our dietary needs and appetite. Although there may be a natural decline in one's appetite during aging, maintaining a well-balanced diet is key to overall health and wellness.
Healthy eating has been proven to reduce the effects of osteoporosis, high blood pressure, heart disease, gastrointestinal ailments and chronic malnutrition.
Loss of appetite or poor nutrition can be attributed to several factors. Here are a few of the most common:
Decline in Sense of Taste or Smell
According to the National Institute of Health, seniors experiencing a decline in taste or smell may begin adding too much sugar or salt to food to improve the flavor, causing a long-term impact on their health.
Experts recommend first seeking the advice of a doctor to be sure the decline is not connected to an underlying issue such as an upper respiratory infection. Then, consider using herbs and spices to enhance the flavor of food without adding extra calories.
Basil, for example, is perfect for kicking up Italian dishes, particularly those with tomato-based sauces, while tarragon is ideal for chicken and shellfish.
Medication Side Effects
Americans, ages 80-84, take an average of 18 prescriptions per year. Unfortunately, many of these can have unintended side effects including loss of appetite. An article in "Today's Geriatric Medicine" found that "complications of unintentional weight loss include anemia, decreased cognition and quality of life, edema, falls, hospitalizations, hip fractures, infections, osteoporosis, and pressure ulcers".
Contact your doctor right away should you notice decreased appetite or weight loss.
Lack of Tablemates
Dining alone for prolonged periods can affects one's appetite. Research shows it can be both mentally and physically unhealthy. In fact, just the thought of having to dine alone is enough to decrease one's appetite.
Nutritionists suggest seniors share a meal with family, friends or neighbors whenever possible. Studies have found that enjoying a meal with at least one other person increases the amount of food eaten by 35 percent!
Hassles of Meal Preparation
The burdens of grocery shopping, cooking and cleaning up after a meal may deter older adults from maintaining a well-balanced diet. Also, having to scale down recipes to make a meal for one or two people may be too daunting and so a more convenient—often less healthy—dinner alternative is selected.
To overcome this challenge, it is suggested that when possible, prepare larger meals and freeze the leftovers. This offers a convenient solution for those looking for nutritious options without having to cook each day. Dieticians advise against store-bought frozen dinners which are often highly processed and high in sodium, fat and sugar.
A meal delivery service is also a great alternative.
At The Carlisle, our executive chef and his culinary team are greatly in tuned to providing meals that are not only delicious but nutritious. In addition to providing a culinary experience that caters to residents' tastes and desires, our onsite restaurant, The Carlisle Room, offers heart-healthy menu options.
The Carlisle Room provides the perfect setting for residents to socialize and engage in conversation with friends—new and old alike while our state-of-the-art fitness center and engaging, inviting wellness programs encourage residents to lead healthier lifestyles.
"The Carlisle offers a culinary experience unlike anything you'd expect at a senior living community," said Executive Director Bill Diamond. "Our resort-style restaurant is renowned for its extensive dining menu with fresh, seasonal ingredients and is open 12 hours daily, seven days a week. This offers residents the most flexibility and opportunities to maintain a healthy, well-balanced diet."
Located at 6945 Carlisle Court in Naples, The Carlisle offers spacious one-and two-bedroom residences, weekly housekeeping and flat linen services, basic cable TV, all utilities except telephone, and a complimentary full breakfast plus choice of lunch or dinner in the community's gourmet-style restaurant. For more information about the community, please call 239-221-0017 or visit www.TheCarlisleNaples.com.
The Carlisle, a luxury, resort-style senior living community in North Naples, offers both Independent and Assisted Living lifestyles. Available on a monthly fee basis, the ECC-licensed and CARF-accredited community boasts a full range of services and amenities including 12-hour restaurant dining, housekeeping, transportation and activities. Located on Airport Pulling Road, between Pine Ridge and Immokalee Roads, the award-winning community's lush tropical environment is highlighted with meandering walking paths around three lakes and tranquility gardens. For more information or to schedule a tour, please call Director of Marketing Amy Hilliard at 239-221-0017.
Luxury Rental Retirement Living
6945 Carlisle Court, Naples, FL  34109
239-221-0017 . www.srgseniorliving.com