By Timothy J. Roupas, Au.D. –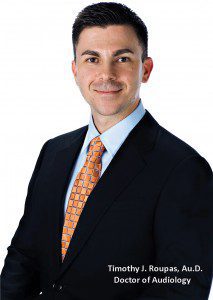 Q: Is it true that everyone loses their hearing as we age?
A: Some individuals retain good hearing sensitivity throughout adulthood.  However, the prevalence of hearing loss does increase with age:
Approximately 15% of younger adults under age 65 have hearing loss
Approximately 30% of adults over age 65 have hearing loss
Approximately 50% of older adults (age 75+) have hearing loss
Although age is the most common factor – hearing loss is also associated with noise exposure, genetics, otosclerosis, Meniere's disease, infections, toxicity, head injury, autoimmune disease and acoustic nerve tumors.
Q: I have heard that untreated hearing loss causes Alzheimer's disease.  Is this possible?
My mother now has Alzheimer's and she has had hearing loss for many years.
A: Researchers from Johns Hopkins School of Medicine and the National Institute on Aging recently discovered a relationship between untreated hearing loss and the likelihood of developing dementia.   Although the reason for the relationship between hearing loss and dementia is unknown at this time – researchers suggest these cases of dementia may be a result of the deprivation of sound over an extended period, leading to a decline in cognitive functioning.   Further research is being conducted to investigate this relationship.
If you have a question related to hearing loss or any other related Audiology topic, please email them to info@napleshearing.com. For more information or to schedule an initial consultation, please call our office at (239) 434-0086 or visit us online at www.napleshearing.com.