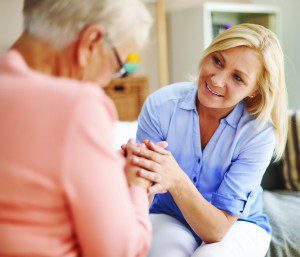 June is National Aphasia Awareness Month, according to  the National Aphasia Association, aphasia is a language disorder usually initiated by a stroke causing one to begin begin having difficulty remembering words, losing the ability to speak, read and write. Aphasia is most common among elderly individuals but can also affect people of all ages and gender. Aphasia is often mistaken as the inability to talk, this is a misconception.  Aphasia can be as severe as to cause one to lose the ability to communicate, or as mild as the inability to remember or articulate certain words. Common causes of aphasia are stroke, brain injury or other neurological disorders such as dementia or Parkinson's. The National Aphasia Association claims that 25% to 40% of people who survive a stroke get aphasia.  A full recovery from aphasia is possible in some cases, though if the symptoms last longer than 2 months after the initial stroke a complete recovery is unlikely.
Aphasia is usually diagnosed through an evaluation from a speech-language pathologist (SLP) with a variety tools and screenings to determine the type and severity of aphasia. According to Nurse On
Call Home Healthcare's regional rehab director, Megan Minor, some of the assessment used are:
• Auditory Comprehension: understanding words, questions, directions, and stories that are spoken
• Verbal Expression: producing automatic sequences, naming objects,  describing pictures,   responding to questions, and having conversations
•  Reading and Writing: understanding or producing letters, words, sentences, and paragraphs
• Functional Communication: using gestures, drawing, pointing, for the purpose of communicating
"Aphasia is affecting more and more Americans and is devastating to their family and friends. We need to continue to educate others about its effects and how to communicate with those that live with it," said Megan Minor.  Due to the fact that aphasia effects mostly the senior population they have many options in the setting in which they can be treated.  One setting that is growing in need is the home health setting. The home health setting provides many benefits to an SLP and to the clients receiving services.
According to the National Association for Home Care and Hospice, approximately 7.6 million individuals currently receive care in their homes from 17,000 providers, (National Association of Home Care and Hospice, 2012; U.S. Census, 2012). According to ASHA (2012), the top areas of intervention for adult clients seen by home care SLPs include swallowing disorders (35%), aphasia (26%), cognitive-communication disorders (16%), and motor speech difficulties (9%). Strokes are overwhelmingly at the top medical diagnosis (63%) seen by SLPs in this setting.
Speech therapy is intended to help an aphasic patient utilize their remaining skills and learn complementary means of communication. The silver lining in all of this is, with appropriate treatment, a skilled speech therapist and a great deal of support and constant hard work, an aphasic patient can indeed live a normal life, and Nurse On Call Home Healthcare has a speech therapist for that.
Nurse on Call
(941) 627-1650