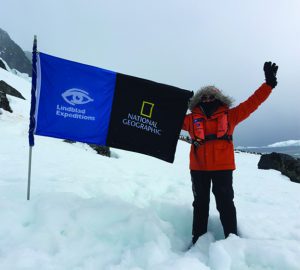 One of the most remote travel destinations on earth has less than 40,000 visitors per year, and yet ranks one of the highest on travel aficionado's lists. Connecting with exquisite uncharted territory one on one, and observing unique wildlife that only a few have seen with their own eyes is what draws so many hearts to Antarctica.
It's so select that it can be compared to unusual experiences like astronauts being in space or on the moon. In fact, astronauts have said that seeing the earth from space, Antarctica looks like a bright glowing lantern at the bottom of the earth.
Linda Walker, a travel specialist with Preferred Travel of Naples, recently visited this vast continent, and the experience as a whole has left her in awe. For a well-traveled expert like Linda, Antarctica was a place she never dreamed that she'd get to see, but when the opportunity struck, she jumped on board with no hesitation.
Lindblad Expeditions, one of the oldest and most trusted Antarctic travel and research specialists, has teamed up with National Geographic to offer travelers not only a fantastic
cruising experience but one that is coupled with a fifteen-person scientific expedition crew to guide you, answer questions and share daily research and findings with interested passengers.
Linda Walker explained the details of her 14-day journey from Florida to Antarctica. Met at the airport by a Lindblad travel guide, she first flew out of Miami landing in Santiago, Chile, and spending one night there with a tour of the historic city. She then boarded the privately chartered flight to Ushuaia, Argentina to embark the expedition style ship with luxurious amenities that fit all personalities and needs. From spa treatments, wellness programs, gourmet meals, an observation lounge and library with panoramic views perched at the very top of the ship, and complimentary organic bath products, Lindblad has thought of everything for your comfort.
Because there are no longer many places left on earth that are exclusive, travellers wanting to visit Antarctica are a mix of personalities that range from adventurous, enjoy pristine natural surroundings, continent collectors, lifelong learners, exotic wildlife seekers, and those that simply love majestic beauty and fresh, unspoiled territory.
The experts pride themselves on not leaving a footprint and not impacting the animals, land or beauty in any way. They personally guide passengers that desire to leave the ship, with expert skill, as they are all seasoned professionals.
When Linda first arrived, she was surprised by the gliding glaciers and the icebergs various shapes. With some like arches and others tabular in shape, the colors ranged from crystal blue to the whitest white. Linda told me that when people use the term, 'the tip of the iceberg,' they are right on point since only 10% of these massive ice formations are outside of the water. In just a few words, Linda explained her first impression of this glistening continent, "Breathtaking beauty, adventure and unspoiled wilderness."
Travellers are only able to visit Antarctica from November to March, which is considered the summer there at the bottom of the earth. The temperatures during this time range from 20 to 50 degrees. When Linda was visiting the temperatures were averaging 30 degrees, but with nearly 24 hours of sun, the climate was perfect. Lindblad provides cold weather gear, such as parkas and boots, so you don't need to pack it if you prefer to travel light. To Linda's surprise, during one cross-country skiing trek, many of the tourists took off their coats, since the warmth from the sun and skiing movements made them feel quite comfortable in their surroundings.
Some of the expedition team consists of undersea specialists that dive the cold waters and share pictures and video of the rarely seen sea life with you during the nightly recaps, while others guide you on daily zodiac excursions to see things up close. Linda describes one such day trip. Circling an iceberg that was the size of a 15-story building, they arrived by zodiac to one of the remote islands. They hiked over the terrain to get to the other side of the island to see thousands of penguins up close. The various varieties of penguins were not phased by humans in the least, sliding down snow-covered hills with their playful personalities, they barely knew anyone was watching them, and since it was their season to lay eggs and protect them, the passengers shared a life-changing moment together. These daily excursions, which also include kayak tours, allow individuals to see seals, whales and extremely distinctive migrant birds up close in their stunning environment.
Some of the islands are covered in snow, while others are more rocky and stark, however, there are no shrubs, trees or greens, just immense tranquility. With minimal hills, you can walk around the islands, but much of the terrain is uneven and requires a steady balance. Due to the weather and wind being a factor, passengers must have a flexible outlook when visiting Antarctica. For example, if the captain or expedition team leader decides to rearrange excursions due to snow or ice that is simply for the safety and enjoyment of the travelers.
Linda sums up her Antarctica experience with ease, "The staff is excellent, they've thought of everything including an onboard photographer to help you capture the best pictures of the islands, and they also share some of their pictures with you. The remote areas of the ship offer solitude, while the communal areas offer socializing for interesting conversation between the staff and other passengers. For a continent that no human life lives on, except for the 5,000 or so researchers that come and go for a few months out of the year, this destination is so untouched, unblemished and spectacular, that I would recommend it to anyone wanting the adventure and experience of a lifetime."
Luxury Travel Advisors recently named Linda Walker as one of the 2017 Trendsetters. With a trip this exclusive, it's critical to seek out knowledgeable professionals like Linda to get you there safely and to meet your specific needs. If you're in need of a life-changing experience, contact the experts in travel and call Preferred Travel of Naples to converse with a travel consultant who truly knows the experience first hand. Whether you're looking to travel privately or with a group to relax or seek adventure, Preferred Travel of Naples is the go-to travel specialist, and they are ready to plan your trip of a lifetime. Your options are endless.
To find out more about Antarctica or other fascinating destinations, please contact Preferred Travel of Naples at 239-261-1177 or visit preferrednaples.com.