Allowing early diagnosis and proper treatment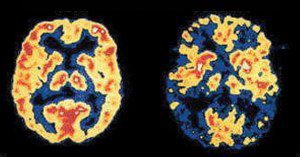 Have you noticed a gradual decline in your memory over the past 12 months? Has this also been observed by someone close to you? If so, a new scan offered at Naples Diagnostic Imaging Center can shed some light on all of the uncertainty surrounding your concerns.
A major advance in diagnosing Alzheimer's disease was recently given approval from the U.S. Food and Drug Administration (FDA). Amyvid, a radioactive agent that allows clinicians to determine the amount of amyloid plaques in an individual's brain, is now used in Position Emission Tomography (PET) imaging of the brain. For the first time, doctors can use an Amyvid PET scan to determine whether amyloid plaque, a major indicator of Alzheimer's disease, is present in patients with signs and symptoms of cognitive impairment. This is important because research has shown that amyloid plaque may be one of the first biomarker abnormalities in Alzheimer's disease. A build-up of amyloid plaque is consistently present when Alzheimer's disease is the cause of cognitive impairment in patients. This means that Alzheimer's disease can be diagnosed several years before symptoms appear.
PET scanning technology is highly precise and has recently been reported to be the most accurate way to distinguish between Alzheimer's and the other various dementia disorders. Using PET imaging enables early detection, before anatomical changes to the brain occur. This allows for proper diagnosis and treatment prior to the onset of behavioral or cognitive changes and deterioration.
Doctors can now diagnose and differentiate various forms of dementia disorders with greater certainty than before. Now, more than ever, cognitive changes and impairment can be properly addressed because doctors are better able to determine the underlying cause. Proper diagnosis is vital for doctors to develop the most appropriate treatment plan in order to effectively slow the disease progression. Slowing the progression of Alzheimer's disease enables patients and families time to plan for what lies ahead of them in terms of health care, as well as financial and legal matters. On the other hand, if the PET scan eliminates an Alzheimer's diagnosis, the patient can decide on treatment0 options that enhance memory.
Amyvid should be used as an additional diagnostic tool when evaluating individuals who may have Alzheimer's disease, in conjunction with cognitive tests and patient history gathering. The amyloid plaque scan involves an injection of the Amyvid agent, followed by a PET scan to image the brain. The entire process takes approximately one hour. If you are concerned about a loved one's cognitive functions, or your own, ask your doctor if an Amyvid PET scan could be helpful in determining what if any form of dementia is present.
Please contact Naples Diagnostic Imaging Center for more information about Amyvid and how it can aid in determining if you or a loved one is predisposed to developing Alzheimer's disease. Early detection is imperative for successful treatment and slowing the progression of cognitive disorders. Don't wait until behavior changes and deterioration has occurred. Call 239-593-4200 today!