By Greg Pascucci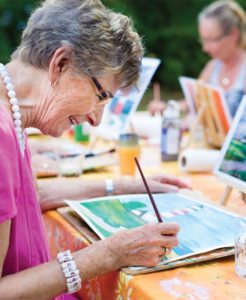 May is Older Americans Month, created to highlight the contributions of those 55 and over and honor their vital role in our communities and society. This year's theme is "Connect, Create, Contribute".
The Administration on Aging, part of the Administration for Community Living (ACL), leads our nation's observance and reminds us that no matter where we are in life, there is no better time than now to follow your passions and make a difference.
Connect
Research points to a wealth of benefits associated with socialization and forming and maintaining social connections. There is often a direct correlation between social interaction and the health of older adults.
Connecting with others can affect everything from diet and nutrition to physical health and emotional wellbeing. Studies show that we tend to eat more when we dine with friends, often making healthier food choices. At The Carlisle Naples, the active retirement community's onsite restaurant—with its extensive menu and 12 hour dining—has become a hub of activity for residents beginning their day. Whether planning which activities and outings to attend or merely exchanging stories about grandchildren, residents relish the company of others as well as delicious, chef-prepared, daily specials.
Being with others also increases opportunities for physical fitness and, you're more prone to work out if there is someone to hold you accountable. Plus, The Global Council on Brain Health has found social connections can help maintain one's thinking skills and slow cognitive decline.
Create
ACL suggests engaging in activities that promote learning and personal enrichment. College-level courses offered through the Osher Lifelong Learning Institute can be an excellent option for older adults wishing to delve into a variety of subject matter. Classes that tap into one's creativity are encouraged to help older adults amplify their creative potential.
There are opportunities at The Carlisle for educational and creative pursuits. Just a sampling of the May offerings includes an Introduction to Facebook course, a "Music of the Knights" multimedia presentation featuring recordings performed or composed by knighted British musicians, numerous art classes and discussion groups.
Contribute
Older adults have a wealth of knowledge to impart on the younger generation and will find organizations will welcome their time and talents. AARP and Senior Corps offer wonderful suggestions for how one can make a difference through volunteering. Local schools, libraries and hospitals may need volunteers too.
At The Carlisle Naples, the maintenance-free lifestyle offered at the community means residents have more time to pursue their interests and hobbies, and for many, that means giving back. For example, the community has an ongoing partnership with Sabal Palm Elementary School where students are hosted throughout the school year. A group of resident-volunteers recently modeled in a charity fashion show which helped to raise money for the school's "wish list."
"The Carlisle is home to residents in their 80's, 90's and beyond and they amaze The Carlisle team with their vibrancy and vitality," said The Carlisle's Executive Director Bill Diamond. "They are shattering stereotypes and redefining what it means to be an older adult."
Located at 6945 Carlisle Court in Naples, The Carlisle offers spacious one-and two-bedroom residences, weekly housekeeping and flat linen services, basic cable TV, all utilities except telephone, and a complimentary full breakfast plus choice of lunch or dinner in the community's gourmet-style restaurant. For more information about the community, please call 239-221-0017 or visit www.TheCarlisleNaples.com.
The Carlisle, a luxury, resort-style senior living community in North Naples, offers both Independent and Assisted Living lifestyles. Available on a monthly fee basis, the ECC-licensed and CARF-accredited community boasts a full range of services and amenities including 12-hour restaurant dining, housekeeping, transportation and activities. Located on Airport-Pulling Road, between Pine Ridge and Immokalee Roads, the award-winning community's lush tropical environment is highlighted with meandering walking paths around three lakes and tranquility gardens. For more information or to schedule a tour, please call Director of Marketing Greg Pascucci at 239-221-0017.
Luxury Rental Retirement Living
6945 Carlisle Court, Naples, FL 34109
239-221-0017 . www.srgseniorliving.com