By Todd D. Smith, MPT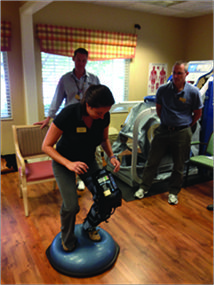 Cutting edge Technology.
Life Care Center of Estero continues to invest in state of the art tools to maximize patient outcomes. Life Care has had the AlterG® Anti-Gravity Treadmill® for the past 3½ years delivering amazing results, allowing patients to walk in a fall-safe environment with up to 80% less body weight. We are now excited to add the AlterG Bionic Leg™.
Take the first step in neurologic and orthopedic therapy.
The AlterG Bionic Leg™ is more than a rehab tool; it's a wearable mobility-training device. It is a vital key to providing you with greater mobility and increasing your confidence, Life Care Center of Estero is making this technology available to our patients. When you use the AlterG Bionic Leg™ during your therapy:
• You may see dramatic results in your
mobility and strength.
• It can help you re-learn functional
movements.
• It can provide greater support for you
during walking or balance exercises.
• You may experience dramatic progress
towards an improved quality of life.
Mobility through versatility.
At Life Care Center of Estero, we are helping patients take their therapy to the next level. From increasing your overall function to improving your walking and balance, the Bionic Leg has proven to be an effective tool to keep you moving on the road towards your recovery and general wellness.
A Reliable Foundation.
At Life Care Center of Estero, the AlterG Bionic Leg™ can:
• Help get you stronger during therapy
sessions so you can function more
independently out of therapy.
• Assist your weakened or affected limb,
which lets you complete more exercises
during therapy.
• Improves your balance and confidence
during therapy, making it easier to practice
walking, sit-to-stand transfers and stair
climbing.
For more information about how the AlterG® Anti-Gravity Treadmill® or AlterG Bionic Leg™ may help with your rehabilitation, please contact our outpatient rehabilitation department at 239-495-4046 or visit http://www.alterg.com