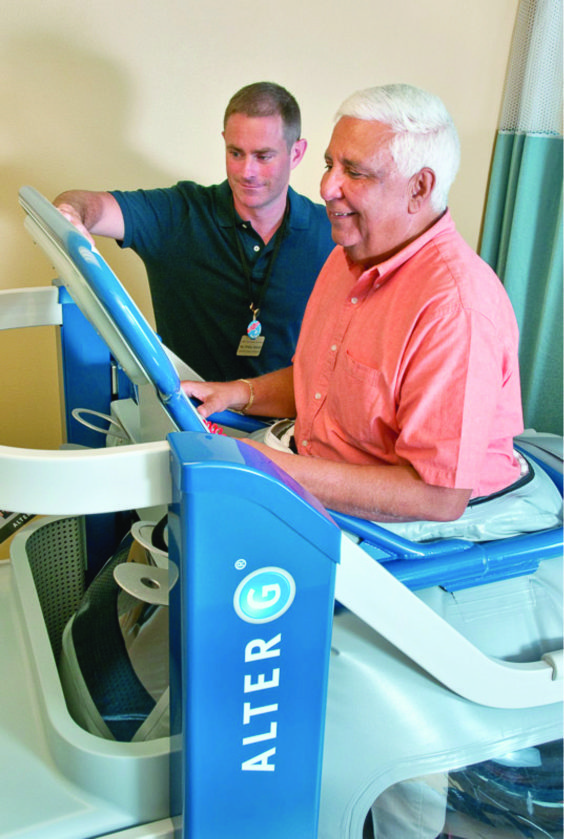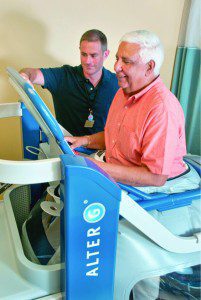 Life Care Center of Estero is pleased to offer the revolutionary Alter-G Anti-Gravity Treadmill for patients in outpatient and skilled nursing rehabilitation. This unique piece of therapy equipment is ideal for seniors recovering from neurologic and orthopedic-related injuries and yields amazing results by gently unweighting while they walk or exercise.
Mobility Meets Stability
The Anti-Gravity Treadmill® gets mobility-impaired patients back on their feet and on the road to achieving a better quality of life. During rehabilitation, the Anti-Gravity Treadmill will help you attain greater mobility by:
• Providing support and confidence to start walking and take more steps in comfort.
• Enabling you to walk or even jog further, faster and with more stability than you may have previously thought possible.
• Preventing falls, which increases comfort and confidence during rehab and beyond.
• Improving health and wellness and helping you achieve more independence in your day-to-day life.
AlterG Does More in Senior Rehabilitation
The AlterG Anti-Gravity Treadmill's ability to safely unweight the user means you can:
• Reduce stress on joints and injured areas of the lower body.
• Exercise when you otherwise might not be able to because of pain, stress, or instability.
• Potentially prevent functional decline and enable greater independence during essential activities of daily living such as bathing, dressing, getting up from a chair, and using the bathroom.
Imroved Quality of Life
The Anti-Gravity Treadmill helps you achieve greater independence and improve your functional ability, which results in more quality time with your family and time to enjoy the things you love. The AlterG Anti-Gravity Treadmill enables rehabilitation therapists to give you the care you need to live your life to the fullest.
Schedule a time to come and demo the Anti-Gravity Treadmill at Life Care Center of Estero! Call us at 239-495-4046.
239.495.4000 | 3850 Williams Rd. | Estero, FL 33928 | www.LCCA.com