By Arietta Living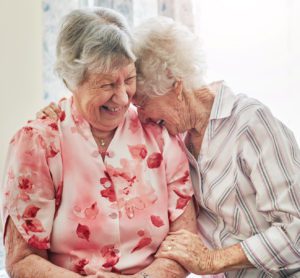 Humans were created for relationships. Perhaps it was the neighborhood friends we played with when we were young. Maybe it was the best friend in college, that person who always had our back no matter what. Or maybe it's that lifelong friend we make time for even during the busyness of our adult years. But one thing is certain, regardless of age, friendships and relationships will always be a much-needed part of our lives.
During the aging process, it's even more important to keep these relationships and friendships vibrant and growing. Friends bring encouragement, support and love, which are essential to a long and fulfilled life. As Ringo Starr said, 'I get by with a little help from my friends.' This saying is even truer for seniors. It's important, though, to realize that less is truly more. Rather than becoming friends with everyone, focus on a few good relationships—individuals you truly connect with—and spend time developing those friendships.
Aging comes with enough challenges and without friends and family to make it easier, these hurdles can seem terrifying. Social isolation can slowly creep in as friendships become harder to maintain, but it doesn't necessarily have to. There are still opportunities for meeting new friends throughout later years of life.
Here are a few tips to keep your social life vibrant:
Get Online – Seniors no longer need to leave their house to connect with old and new friends. Though it isn't proven that online connections provide the same benefits as face-to-face contact, social media websites, such as Facebook, make it easier to find friends and stay in touch.
Volunteer – Find organizations in your local community for which you can volunteer. Serving and helping others is known to improve one's own outlook on life while also keeping physical and mental activity elevated. In addition, it's a great way to meet new people and forge new friendships.
Join a Club – Look into local organizations that may be of interest. Participate in a knitting club or a gardening club with others who share the same hobby. Local churches and senior centers are great places to find clubs focused on activities for older adults.
Take a Class – Many local colleges offer continuing education courses for adults. Learning something new can be exciting and presents opportunities to learn alongside classmates who have shared interests. Participating in continuing education classes also stimulates the brain and improves mental function and memory.
Find a Pen Pal – Whether it's via snail mail or email, meeting a friend from another state—or even country—can be very fulfilling and rewarding.
There are many resources online to find a pen pal, so don't be afraid to pick up that pen or login to that computer and find a new friend.
Friendships at any stage of life are important, but seniors can benefit greatly from keeping friendships alive and flourishing. After all, friendship is ageless.
To learn more about the friendships made at Allegro, call 941-549-8811 or visit AriettaLiving.com.
ARIETTA
Call 941-549-8811 or visit AriettaLiving.com