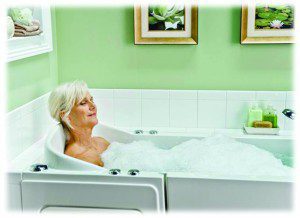 More than one in three seniors over age 65 fall each year, and the National Institute on Aging (NIA) says 80 percent of these falls are in the bathroom. Due to the multitude of unforgiving and slippery surfaces, bathrooms can be very hazardous for seniors.
You see, bathrooms are very dangerous places even though most of us never really think of them that way. All you have to do is a quick internet search and you would clearly see how many slips and falls occur in a bathroom every year. This number is even more startling when you look at the number of seniors.
According to research from the Centers for Disease Control and Prevention, 1.6 million older adults seek emergency care each year for fall-related injuries, fractures or head trauma. In addition to potentially losing their independence, seniors 65 years old and up have a 25 percent chance of dying within six months to a year if they fall and break a hip. An estimated 95% of hip fractures are a result of falling.
A fall can significantly change your life. If you're elderly, it can lead to disability and a loss of independence.
Twenty to thirty percent of people who fall suffer moderate to severe injuries such as lacerations, hip fractures, or head traumas. These injuries can make it hard to get around or live independently, and increase the risk of early death.
Fortunately, falls are a public health problem that is largely preventable. As our health changes and our risk of falling increases, we must make changes to minimize our chances of falling and potentially suffering from a serious injury.
Falls and accidents seldom "just happen." Taking care of your health by exercising and getting regular eye exams and physicals may help reduce your chance of falling. Getting rid of tripping hazards in your home and wearing nonskid shoes may also help.
Another preventative method recommended by physicians is immediately addressing any changes within the home that will help prevent falls. One of he most recommended additions to the bathroom, is a shower or tub built around the unique needs of elderly adults. There are a variety of products available that can significantly reduce the risk of falling while bathing, some of these include: walk-in shower unit with foldable chair, flexible shower wand, grab bars, and ultra-low step up.
Knowing how to get in and out of tubs and showers properly and equipping homes with necessary safety precautions can reduce senior falls, keep them out of the emergency room and possibly extend their life.
A senior living in a safe home is able to live more independently with a better quality of life. Many people who fall, even if they are not injured, develop a fear of falling. This fear may cause them to limit their activities, which leads to reduced mobility and loss of physical fitness, and in turn increases their actual risk of falling.
My wife and I are seniors ourselves and we know firsthand the affects aging has on our bodies and lifestyle. Let us help you have a safer and more comfortable bathing experience. For more information on bath solutions that best meet your needs, please call us at 1-877-878-8141 today, don't wait until an accident happens.
Be Safe, Be You……Safe At Home……. We Help Seniors Every Day, Let Us Help You!