By Amy Hilliard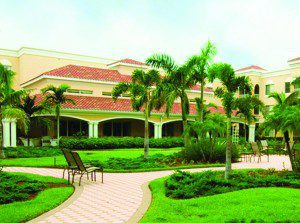 Research indicates that the aging process is different for men and women. Not only are the responses from the body different but so is the male/female psychology on getting older.
According to a study, older men cited the following concerns about aging:
Loss of Independence—The Boomer Project, a leading authority on insights about the 50+ market, revealed that 90 percent of seniors reported their greatest fear is the loss of independence.
For men, especially, limited driving or the inability to drive their cars greatly contributed to this feeling. The Center for Disease Control's recent study on older drivers showed that 57 percent of men reported they avoided driving under certain conditions (weather, heavy traffic and time of day, etc.) contributing to their feeling of a loss of independence.  Taking this into account, many senior living communities offer transportation services.
At The Carlisle, a luxury retirement community in North Naples, curbside transportation services are offered.  Director of Sales & Marketing Thom Braun has found that although many residents who move to the community still drive, once they realize the convenience provided by The Carlisle's transportation services and the wealth of destinations served, they soon opt for the community to handle the driving.
Carlisle residents never have to miss out on activities and special events taking place in Naples and throughout Southwest Florida. In fact, there isn't even a need to worry about event parking or coordinating tickets. The full-time Director of Programs works closely with the community's transportation department to ensure residents have curbside access to every exciting event offered in the area.
A move to a senior living community often gives residents more options as to how they choose to spend their day which in turn heightens their sense of independence.
Irrelevance in Retirement—Geriatrician Laurie Jacobs, director of the Jack and Pearl Resnick Gerontology Center at the Albert Einstein College of Medicine in New York City, points out that men fear retirement because it's how they define themselves and how they fill their time.
Senior living communities offer a variety of lifestyle options, affording residents the ability to reinvent themselves. "The men at The Carlisle enjoy great camaraderie and can often be found exchanging stories and sharing a laugh," added Braun. "Here, age is just a state of mind; you're as young as you feel. Plus, they're surrounded by others who are sharing the experience. This is especially meaningful."
The Carlisle's maintenance-free lifestyle is perfect for those looking to start a fresh chapter post-retirement. There are numerous opportunities to remain vibrant, active and engaged. Interested in learning a new hobby? Want to volunteer with a local charity? The choice is yours.
"Several Carlisle residents have now found time to serve as board members to organizations; author novels and memoirs; and become award-winning athletes through our annual Summer Senior Olympic Challenge," said Braun.
Loss of Strength/Weakness—Nearly 9 in 10 people surveyed by the American Geriatrics Society Foundation for Health in Aging stated that feeling weaker was the most dreaded part of aging.
Strength training is key to helping older adults maintain their sense of balance and ability to perform activities such as climbing stairs or carrying groceries.
The Carlisle offers a variety of fitness and wellness programs designed to help residents lead healthier lives. Our weekly aquacise class, for example, provides a well-balanced workout that delivers aerobic training, builds muscular strength and endurance, increases flexibility and helps maintain a healthy body composition.
The community also has a state-of-the-art fitness center with equipment specially designed for older adults. The machines provide both strength and cardio benefits and is well suited for residents looking to maintain or begin a fitness regimen.
For more information about retirement living at The Carlisle Naples, located at 6945 Carlisle Court in Naples (off Airport-Pulling Road and across from Collier County's Headquarters Regional Library), please call 239-221-0017 or visit www.TheCarlisleNaples.com.
The Carlisle, a luxury, resort-style senior living community in North Naples, offers both Independent and Assisted Living lifestyles. Available on a monthly fee basis, the ECC-licensed and CARF-accredited community boasts a full range of services and amenities including 12-hour restaurant dining, housekeeping, transportation and activities. Located on Airport-Pulling Road, between Pine Ridge and Immokalee Roads, the award-winning community's lush tropical environment is highlighted with meandering walking paths around three lakes and tranquility gardens. For more information or to schedule a tour, please call Director of Marketing Thom Braun at 239-221-0017.