By Arietta Living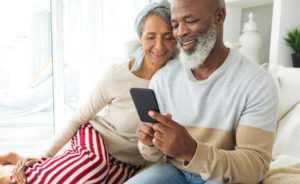 The surge in the aging population is challenging the technology industry to provide inventive solutions. Advancements in technology are enhancing the lives of older adults and their caregivers.
Here are seven items to add to your wish list this holiday season:
1. According to the Department of Health & Human Services, nearly half of adults 75 and older have hearing loss. Hearing aid technology has advanced significantly in the last 20 years. ReSound offers an aid that enables users to control their hearing via an iPhone app. These hearing aids connect with an iPhone, an iPad, or an Apple Watch via Bluetooth. Users can adjust volume, treble, and bass, and create specific settings for various indoor and outdoor environments.
2. We all know how confusing large parking lots can be. The Park 'N' Forget app helps you find your car with ease. Park 'N' Forget helps you locate your car among hundreds of other vehicles and even monitors the amount of time spent in metered parking. When leaving your car, simply choose the color or number associated with the deck level and the app pinpoints your car location.
3. Voice assistants are seeing a surge in popularity with the launch of Amazon Echo and Google Home. Billed as a simple speaker, these devices boast thousands of skills that connect to your smart phone and home. They act as a virtual assistant connected to a smart speaker. Through sophisticated voice recognition, you now have a home companion that can accomplish infinite tasks for you. For the senior population, these devices can assist with medication reminders, alert you to upcoming doctors' appointments and act as a home assistant for cooking and other tasks.
4. Reminder Rosie is a voice assistant designed specifically for the senior population. It has the appearance of an alarm clock with a large digital screen. But unlike the devices previously mentioned, Reminder Rosie records all the things a loved one needs to remember in the voice of a family member or caregiver. It sets dates and times for reminders and the alerts are provided by a recognizable voice of a loved one. The user can also ask Rosie questions about important times and dates and the pre-recorded messages will answer.
5. Rendever offers the latest in virtual reality technology. Designed specifically for seniors, Rendever is providing new opportunities for older adults to experience parts of the world they are missing. The wearable device allows the user to reconnect to places they used to call home. Users also visit famous landmarks or beautiful countries they dreamed of traveling to in person. Revisit the location of your wedding or walk the streets of Paris. The innovative technology helps seniors avoid isolation and re-engages them with new environments.
6. 5Star Responder acts as a buddy system for older adults. This simple, clip-on device uses GPS technology to connect you with a certified 5Star Agent at any time. With an easy press of a button, you can choose whether you're contacted by a family member or friend, a registered nurse, sent directly to 911, and more.
7. Keeping the house clean may become more difficult as you age. Luckily, technology has advanced enough to offer hands-free vacuums that get the job done for you. The iRobot is a smart, self-guided vacuum that scoots around the house, collecting dust, pollen, crumbs, pet hair and dirt using its fine-filtration system. It automatically transitions from carpet to hard floors easily and features built-in cliff sensors that recognize stairs and other steep drop-offs. The vacuum is easily recharged on its docking station.
To explore how Arietta creates an engaging experience for their residents, visit AriettaLiving.com or call 941-549-8811.
Discover the Arietta Lifestyle
Life is a musical journey. Arietta offers independent living in Sarasota, FL for adults who are ready for their next adventure in life. Much like notes on a page that guide music, Arietta (meaning melody) guides you through a life of purpose and passion. Spacious layouts and modern amenities welcome you home to a lifestyle designed your way. Focus on your best life without worry.
ARIETTA
Call 941-549-8811 or visit AriettaLiving.com