By Adam Shuster, DO Pain Management Consultants of SWFL –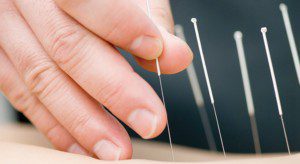 Acupuncture is a complementary medical technique used for a variety of ailments, including pain. It is based on Eastern Chinese medicine and philosophy. There are more than 365 acupuncture points in the body. Energy pathways called meridians connect the acupuncture points. Qi (pronounced chee) is the energy that flows through the meridians. The aim of acupuncture is to restore deficiencies or correct excesses in Qi, thus restoring health.
Acupuncture Has Promising Results
Acupuncture enjoys widespread use in the United States. It was recognized as having promising results by the National Institute of Health in 1997. Acupuncture has been used for postoperative pain, nausea and vomiting, and also for low back pain. Acupuncture is also used for neck pain, headaches, myofascial pain, and carpal tunnel syndrome.
Studies Show Decrease in Pain
There have been many studies which show a decrease in pain, for a variety of pain complaints. Acupuncture is steadily being integrated in to modern medicine and may be helpful in increasing functioning and decreasing pain in a variety of painful conditions. Acupuncture is generally safe.
Patients may have bruising. It is possible to have bleeding, pain at the needle insertion site, and even pneumothorax (punctured lung); though these complications are not very common, and tend to be mild.
Experts in Pain Care
At Pain Management Consultants, our board-certified physicians are fellowship trained and board-certified in pain medicine. Utilizing state-of-the-art care for chronic pain, our ultimate goal is to treat the source of your chronic pain, minimize its impact on your life and help you return to a more functional, productive life.
To learn more about acupuncture or other treatment options, please call Pain Management Consultants at 239-333-1177, or visit us online at www.flpaincenters.com.
Florida Pain Centers
239.333.1177