By First Light Home Care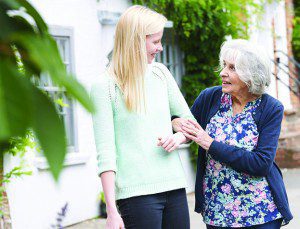 Remaining independent doesn't mean you have to do everything yourself. Knowing your limitations and when to ask for help is often the key to prevent injury and maintain your quality of life as you age.
Repeated surveys show seniors prefer to remain at home and age in place. Most people prefer to live in their own home and community where they can live by their own rules, stay near their friends and remain in a place that is familiar.
To remain at home, many adults need only a small number of services to function independently, such as help with home maintenance, light housekeeping, laundry, shopping and cooking. Assistance with daily routines, such as bathing, dressing, grooming and eating can also help maintain independence.
Sometimes, recovering from an illness or injury – even surgery – can make it difficult to perform daily household tasks. Caregivers can offer a helping hand that makes regaining or maintaining independence easier with personalized support and sincere encouragement from experienced caregivers.
Small adaptions can also allow seniors to remain in their home. These adaptions include grab bars in the bathroom, carpeted stairs, chairs that are easy to get in and out of, additional lighting, and relocating objects to easy-to-reach cabinets or shelves.
Home care companies can provide services in a variety of situations, not just for the aging. Companies also offer customized caregiving services for people with disabilities, those recovering from surgery, injury or rehabilitation, new moms just home from the hospital or families of deployed military personnel —anyone who needs assistance to make life easier. A professional caregiver can also offer a break for family members who are serving as caregivers.
If you have determined that having additional outside support for you or a family member is needed, you might struggle with where to find an outside service. Gina Kaurich, a registered nurse who has worked with seniors for more than three decades, offers some important items to consider:
• You will want to hire a company that has caregivers who are bonded, insured and professionally trained.
• Use a company that conducts background checks to ensure that the caregiver you hire has been carefully screened.
• Ask your doctor or your parents' doctor. Most medical professionals have long-term relationships with caregivers and can provide recommendations on companies or individuals.
• If you hire a caregiver directly, you will want to be certain you understand the liability associated with employing a caregiver, particularly if this person will be driving you or your loved one to appointments.
• If you are hiring a company ask for recommendations. Check them out online. Call actual clients that have used their services to see what their experience was like.
If you have questions about in-home care for you or family members, please contact FirstLight HomeCare at 239.940.0614 or banderson@firstlighthomecare.com.
FirstLight Home Care
Naples 239-451-8185
Fort Myers 239-940-0614
www.firstlighthomecare.com