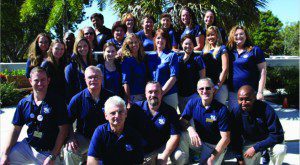 1.    Private, comfortable and beautifully designed rooms
2.    The Preferred Reserve Program- the first-of-its-kind program developed by Life Care Center of Estero's parent company of Life Care Center of America
3.    Located between two major centers for orthopedic surgery in Naples and Fort Myers
4.    State of the art equipment including AlterG® Anti- Gravity Treadmill®  and the Biodex Balance System SD
5.    Excellent therapists with the latest techniques to rehabilitate patients following total joint replacements and other orthopedic surgeries, using techniques such as manual therapy, therapeutic taping and functional strengthening
6.    An interdisciplinary care team trained in following physician protocols and the use of post-operative equipment
7.    Education that empowers patients by informing them about their specific surgeries along with educational packets which include handouts, anatomy diagrams and home exercise programs
Rehab in the news
1)    Exercise with your spouse! A recent study conducted by Johns Hopkins Bloomberg school of Public Health found that if a wife works out her husband is 70% more likely to exercise and if a husband works out his wife is 40% more likely to exercise. So go work out and bring your spouse too.
2)    MRIs or Physical Therapy. A March study in the Journal of Health Services Research looked at patients with low back pain and found that patients going to physical therapy first versus MRIs first spent an average of $4,793 less on their medical care. Keep this in mind when with early back pain and talk with your physician regarding your options.
3)    Back surgery or Physical Therapy. The March 2015 issue of Annals of Internal Medicine found similar effects of surgical decompression versus a physical therapy regimen for lumbar spinal stenosis. With an average surgical price tag of $80,888 for lumbar spinal stenosis verses an average physical therapy price tag of $1,871 it is again important to talk to your doctor about all of your options.
4)    Exercise and Brain Function as we age. A study at Rush University Medical Center in Chicago published in the March 2015 issue of Neurology found that adults in their 80's who engaged in high levels of physical exercise maintained or improved their performance on physical performance tests along with no change in brain tissue. Subjects who were more sedentary had a decline in their performance along with an increased in degenerative changes in brain tissue. It is just another reason to stay active and exercise throughout your life regardless of your age.
239.495.4000 | 3850 Williams Rd. | Estero, FL 33928 | www.lifecarecenterofestero.com