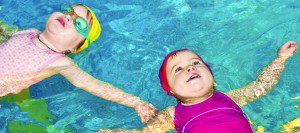 1.    There is water everywhere in Collier County.
Did you know that children can drown in less than an inch of water? And that for every child who drowns, another five are hospitalized and another 16 are treated for submersion injuries? Many things that happen to our children are beyond our control, but being safe in and around water is not one of them.
2.    Children ages 1 to 4 have the highest
drowning rates.
In 2009, among children 1 to 4 years old who died from an intentional injury, more than 30% died from drowning, and most of these deaths occurred in home swimming pools. Lack of swimming ability, lack of barriers such as pool fencing, lack of close supervision, and location are all key factors that influence drowning risk.
3.    There are several easy steps that can be taken immediately to help prevent drowning.
Install four-sided fencing with self-latching gates that open outward (so that when children are tempted to use a chair to open the gate, the door hits the chair), never let a child swim unsupervised (drowning and permanent brain damage can occur in less than 5 minutes!), clear the deck of toys so that children are not tempted to enter the pool unsupervised, and teach your children water safety.
4.    Learning water safety is the key to preventing accidents in or on the water.
The Naples Swim School at the YMCA offers swim programming built on the philosophy that a strong swimmer is a safe swimmer. Water safety skills are taught as the priority, but the Naples Swim School at the YMCA teaches the fundamental skills while ensuring that all the kids have fun, so that they are excited to keep coming back!
5.    The Naples Swim School has put over 1000 kids through the program.
Beyond just water safety, The Naples Swim School at the YMCA swimming lessons are instrumental in developing health and fitness, social skills, and competitiveness. All important character traits that will help them in various environments in school, and even later in life. Sign up today or call the Greater Naples YMCA at (239)597-3148 for more information.
Greater Naples YMCA  |  5450 YMCA Road, Naples, FL 34109  |  (239) 597-3148