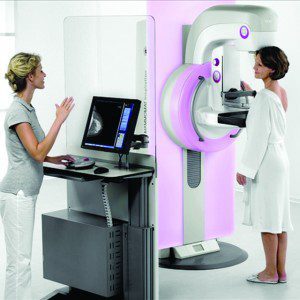 The American Cancer Society recommends that women in their 20s and 30s to have a clinical breast exam every three years. Women aged 40 and older should have a screening mammogram and clinical breast exam every year.
Knowing the guidelines is only part of the prevention of later stages breast cancer. Taking advantage of the screening technology available is vital to early detection and recovery statistics.
Radiology Regional Center is pleased to offer patients 3D Mammography, a breakthrough technology that detects 40% more invasive cancers than 2D exams alone. In women with dense breast, the addition of 3D mammography increases cancer detection while reducing false positives!
What is 3D mammography?
3D mammography is a revolutionary new screening and diagnostic tool designed for early breast cancer detection that can be done in conjunction with a traditional 2D digital mammogram.  3D mammography allows radiologists the ability to view inside the breast layer by layer, helping to see the fine details more clearly by minimizing overlapping tissue.
During a 3D mammogram, multiple projections known as "slices" of the breast are acquired at different angles. With 3D technology, the radiologist can view a mammogram in a way never before possible.
Why is there a need for 3D breast exams?
With conventional digital mammography, the radiologist is viewing all the complexities of your breast tissue in one flat image. Sometimes breast tissue can overlap, giving the illusion of normal breast tissue looking like an abnormal area.
By looking at the breast tissue in one millimeter slices, the radiologist can provide a more confident assessment. In this way, 3D mammography finds cancers missed with conventional 2D mammography. It also means there is less chance your doctor will call you back later for a "second look," because now they can see breast tissue more clearly.
The Exam
The 3D mammogram screening experience is similar to a traditional mammogram. During a 3D mammogram exam, the X-ray arm sweeps in a slight arc over your breast, taking multiple, low-dose images of the breast at different angles. The 3D exam only takes about four seconds longer per view while in compression than the 2D mammogram.
These images are then used to produce a series of one-millimeter thick slices that can be viewed as a 3D reconstruction of the breast. The radiologist can scroll through images of your entire breast like pages of a book.
As with traditional mammography, the 3D exam requires lower radiation levels than government safety standards.
Why Radiology Regional Center is the Clear Choice for Women's Imaging in Southwest Florida
We are the only team in Southwest Florida with local, board-certified radiologists including fellowship trained womens imagers.
Our Personal Care
• Private meeting with radiologist for first time mammogram patients or patients with abnormal results
• Certified Breast Patient Navigator offers individualized guidance
Our Comprehensive Services
• 3D Mammography, the most accurate breast imaging technology
• Digital Mammography with Computer Aided Detection
• Mobile Mammography to serve the Southwest Florida community
• Breast Biopsy at convenient locations in Lee and Collier County
• Accredited Mammography, Breast Ultrasound and MRI
• Online Patient Portal to view exam results
• All-inclusive pricing means no hidden costs
• Over 37 years of combined experience
To schedule an appointment,  call (239) 936-4068.
Benefits of 3D
Mammograpghy:
EARLIER DETECTION by discerning cancers from dense breast tissue.
FEWER CALLBACKS by distinguishing overlapping breast tissue from real cancers, affording less anxiety for women.
BETTER VISUALIZATION of the size, shape and location of an abnormality.
239-936-4068
Radiology Regional Center
(239) 936-4068 . radiologyregional.com