By Steven J. Gibbs, Esq.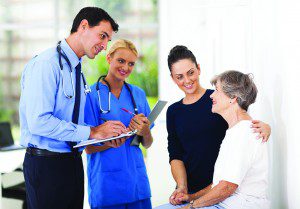 Hello Friends & Colleagues!
At Health & Wellness, this month is about raising awareness concerning the following serious medical conditions:
Leukemia & Lymphoma Awareness
Prostate Cancer Awareness
Ovarian Cancer Awareness
A big part of maintaining awareness is submitting to regular medical check ups.  However, did you know that Estate Planning Checkups are also important to stay aware of changes in the law or necessary changes to your documents?  Keeping abreast of changes is necessary to maintain a healthy estate plan in the same way that regular medical check ups are necessary to maintain physical health and wellness.
Here are 3 reasons why regular estate planning check ups and updates are important:
1.    Changes in the Law
2.    Family Changes
3.    Your Changing Needs
Changes in the Law
Our legislators at the State and Federal level are continually reviewing and often updating laws that directly impact your estate planning.  For example, in recent years, the State of Florida revised the Durable Power of Attorney statutes so that "Springing Powers of Attorney" are no longer valid (if created after the revision).  Another recent example at the Federal level, is that the "portability" of the Marital Deduction has become permanent so that a surviving spouse may utilize the deceased spouse's Federal Estate Tax exemption even if this wasn't provided for in the documents.  For more information about both topics, you can access my blog by typing this link into your browser:
http://www.gibbslawfl.com/blog/
or just visit www.GibbsLawFL.com and click blog.
The point is that these changes can occur without your awareness and the only way to stay on top of it is a regular estate planning checkup with your experienced estate planning attorney.
Family Changes
I wrote a blog article recently about the addition of new family members and the estate planning implications for both parents and grandparents.  That blog article can be accessed at this link:
http://www.gibbslawfl.com/got-new-family-members-planning-changes-for-kids-and-grandkids/.
Joyful occasions such as the birth of a child and can necessitate important changes to your estate planning documents and these are part of your estate planning checkup.  The death of a spouse or another family member may also
necessitate important estate planning changes, especially where one of your appointees becomes unavailable and a new appointee must be designated to serve in an important role such as Successor Trustee or Executor.
Your Needs May Change
Aging often brings changes in one's ability to care for themselves and these changes may necessitate important updates to your estate plan. For example, if you've created a Revocable Living Trust and are serving as your own Trustee, an amendment may be needed to appoint your successor, either temporarily or permanently, in the event you are unable to manage your own affairs.
Your needs may also change with age if you need to begin "Pre-Medicaid" planning or start "Gifting" assets as a way to limit your estate and plan for Federal Estate tax savings for the next generation.
The important thing to remember is that, like your physical health, regular checkups are important to assure that nothing is being missed and all changes are being incorporated into your plan.
There is another connection to your physical health which is the peace of mind comes from knowing that you've taken care of your highest priorities.  For most people, peace of mind lowers stress while fostering a sense of love and fulfillment. These attributes are all a part of a healthy life strategy.
So the "take away" today is to take the necessary step to get your estate planning check up, and be sure to review the 3 areas prior to your checkup, because a healthy estate plan is good for your overall health and wellness.
As always, I hope this was helpful and…
Until next time…
Steven Gibbs founded the Gibbs Law Office in January 2009, committed to providing client-centered legal services.
Steve as he would rather be called, is not your typical attorney.  If you appreciate the staunch egotistical mannerism of most firms, you will be delighted with Steve's unpretentious approach to educating and then assisting his client.  Instead of giving you his complacent and lofty ideas, he would rather pursue your expectations with professional conversation about resolving your concerns under the Law.  It's your life and it's his job to make your legal expectations come true while using years of his guidance and knowledge.
Steve was admitted to the Minnesota Bar in 1999, the Florida Bar in 2007 and was recently admitted to the California bar. Keeping abreast of law changes in these three States, as well as the United States, assists him in all aspects of the types of law the firm practices.
Along his career path, he was an associate attorney for an insurance defense law firm; an in-house real estate negotiator for Target Corporation; and corporate counsel for Civix, LLC and Vice President for North American Properties where he was responsible for various real estate transactions, including legal issues and negotiating unresolved business issues.  Prior to opening Gibbs Law Office, PLLC, he was an associate with the firm of Roberts & Engvalson, P.A. where he gained his knowledge of trusts, estate planing and Wills.  He opened his own firm in 2008 and now focuses on laws that will enrich the needs of his clients throughout their lives and those of their children.  The firm has developed a practice dealing only with Trusts and Estate Planning, Wills, Medicaid Planning, Elder Law, Real Estate, Business Law and Probate.
Quoting from Steve "I decided to practice in areas that families will need as they progress down life's path.  To help them with a solid foundation that will carry them throughout there lives is a rewarding experience for me and my staff."
Gibbs Law Offcie
239.415.7495
www.gibbslawfl.com . info@gibbslawfl.com