By John P. Landi, MD, FACS, RPVI, RPhS, Diplomate of The American Board of Venous and Lymphatic Medicine –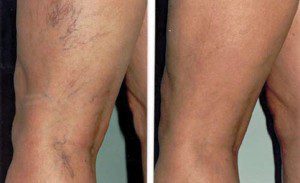 Varicose veins, spider veins, venous ulcerations and chronic venous insufficiency are common problems that affect millions of people worldwide. Only in the last few years has the treatment for all of these conditions changed drastically. In the past, the only treatment for varicose veins was a relatively radical surgical procedure called Ligation and Stripping which required multiple incisions and multiple stitches resulting in a leg that traded veins for scars. As far as spider veins were concerned, the only treatment was a painful injection of a saline solution which caused side effects consisting of burning, ulceration and brownish discoloration. Chronic venous insufficiency and venous stasis ulcers were treated in the past only with support stockings and topical cream.
Fortunately, the treatment for these conditions has improved and now there are minimally invasive, state-of-the-art techniques available to treat varicose veins, spider veins, venous insufficiency, and venous ulcerations. With the advent of laser  and radio frequency closure procedures for varicose veins, the new techniques for foam sclerotherapy of spider veins and the recognition of perforating veins as the cause of venous stasis ulcerations and venous insufficiency, vein treatment has changed dramatically. In fact, Phlebology, the treatment of veins, has become its own specialty area with certification boards. When looking for someone to treat vein problems it is imperative to seek only a doctor who is Board Certified in Phlebology and who has expertise in advanced Ultrasound techniques. Because of the advancement in treatment of venous disease, it is highly recommended that you consider repairing problem veins for the following reasons:
Ulcerations in the skin around the ankles. This problem is usually caused by increased pressure in the veins,  especially around the ankles. This is called Venous Hypertension and Chronic Venous Insufficiency and is usually caused by a condition referred to as Perforator Vein Insufficiency. This can be diagnosed by a venous ultrasound and treated with Laser Therapy, Injection Sclerotherapy, or Ultrasonic Guided Sclerotherapy.
Brownish discoloration of the legs, especially around lower calves and ankles. This is a chronic condition affecting many people. It is usually associated with leg swelling and other symptoms of cramping and aching. Often times a back up of blood in the veins leads to swelling and weakening of the skin resulting in the discoloration.
Phlebitis – a clot in the vein. There are two kinds of Phlebitis: Superficial Phlebitis, affecting the veins immediately under the skin and Deep Phlebitis or Deep Venous Thrombophlebitis, the more dangerous of the two which causes clots in the deeper veins possibly resulting in pulmonary embolism.
Restless legs. Radio and T.V. advertisements about restless legs lead consumers to believe that the only treatment for this symptom is high priced medications with multiple side effects. However, the majority of restless legs are due to underlying vein disorders and many times are caused by Reflux or Incompetence of the valves in the veins, causing a back up of blood in the venous circulation resulting in cramping, aching and restless legs. This could and should be documented and diagnosed by a Venous Ultrasound.
Varicose Veins "bulging rope-like veins" appearing in the leg. They are obvious to the naked eye and in order for them to be present there is almost always a malfunctioning valve associated with them.
Spider Veins "derive their name from the fact that they look like little spider legs." They can vary from just a few veins to an extensive number of veins. This condition is usually due to valves not working properly. They can be treated with either Injection Sclerotherapy or a combination of Valve Closure and Sclerotherapy. It should also be noted, that spider veins alone can cause significant symptoms of aching, cramping and heaviness.
About Dr. Landi
Dr. Landi is medical director of Vanish Vein and Laser Center, a state of the art, dedicated vein treatment center. He is one of less than 2,000 physicians worldwide to achieve the designation of Diplomate of the American Board of Venous and Lymphatic Medicine. He is a fellow of the American College of Surgeons, a fellowship trained vascular surgeon, Board Certified in General Surgery and has achieved both the RPVI and RPhS certifications in vascular ultrasound.
To learn more or to schedule an appointment, please call Vanish Vein and Laser Center at 239-403-0800 or visit us online at www.vanishvein.com.