By Peter Convard – General Manager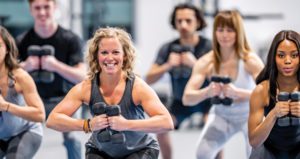 It's that same time of year again. The beginning of a new start, and what better time to finally get serious about your wellness goals? Countless people want to lose weight but doing so effectively requires a lot more than just working out or going to a gym.
CoreFit by Design is not your average gym. In fact, it's a comprehensive personal training facility with a wide variety of different services to offer you the best personal training in Southwest Florida, coupled with advanced therapies and technology to get you looking and feeling your best. CoreFit by design was founded with one goal in mind and that is to give their clients results by providing the very best in service, attention, and accountability to help each person specifically reach their health & wellness goals.
CoreFit By Design offers individuals and families a unique health and wellness opportunity by incorporating multifactorial methods to help you reach your weight loss, health and aesthetic goals. Our facility is unique in that there is no other training facility in Southwest Florida that has what we offer our clients all under one roof. If you want real results for your multiple health and wellness goals, you need the dedicated, experts at CoreFit by design.
CoreFit by Design Provides:
• Weight Loss
• Gaining muscle
• Fat reduction through non – invasive treatments (freezing fat cells)
• Muscle pain relief
• Improve the body's recovery time (CRYO- Therapy)
• Improve Collagen improving and tightening skin
• Temporary eliminating cellulite
• Gaining muscle flexibility& improving core strength
• Continued Rehab from injuries and cardiovascular conditions
• Joint pain relief
• Accountability
• Expert coaching
• Nutritional advice
239.206.2955
www.corefitbydesign.com
24830 S Tamiami Trail #3100
Bonita Springs, FL 34134
CoreFit by Design's Commitment to You!
Our mission here at CoreFit by Design is to impact and change lives through our whole-life approach to wellness.
How CoreFit is Different
1. We believe each of our client's goals are unique and we provide an individualized plan to change their lives.
2. We are not a gym—We are a wellness studio designed with a variety of services and options to changes people's lives. This is a journey that can help you progress to be healthier & happier!
3. You will receive the attention and service with us that you deserve to achieve those goals!
4. We set our standards extremely high and will not rest because we want 100% satisfaction from anyone who calls or walks through our doors.
5. This is our pledge to you!
Give us a chance to change your life call 239-206-2955 to set-up a FREE consultation!