Courtesy of Orthopedic Center of Florida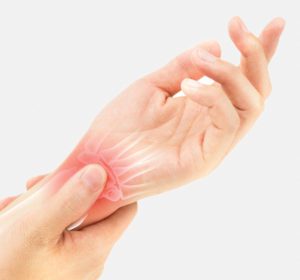 The wrist is made up of multiple bones and ligaments that allow the wrist to bend forward and back and side to side. The wrist joint (the radiocarpal joint) is a synovial joint between the forearm and the hand. Ligaments are the connections between the bones and can be injured during traumatic events such as falls or over time during repetitive activities, such as pushups.
Mainstay of treatment for a sprain is still rest, activity modification, anti-inflammatories, ice and immobilization with a brace. If things are not improving, sometimes we offer a cortisone injection to help reduce any residual inflammation secondary to the injury.
Spraining, tearing or straining the wrist is extremely common. Two of the most common locations for wrist injuries are the triangular fibrocartilage complex and scapholunate ligament.
Triangular Fibrocartilage Complex (TFCC) Injury
Injuries to the triangular fibrocartilage complex include tears of the fibrocartilage articular disk substance and meniscal homolog as well as radioulnar ligament avulsions, with or without an associated fracture.1 This type of wrist injury causes ulnar-sided wrist pain (outside pain) and sometimes gives a sensation of instability.
Diagnosing triangular fibrocartilage complex sprains and tears include physical examination, radiographs and possible imaging (usually MRI). These injuries cause significant weakness in the distal radioulnar joint. Triangular fibrocartilage injuries can also be cumulative from degenerative causes such as arthritis or ulnar abutment syndrome. This syndrome is when the ulna (outside wrist bump) is slightly too long and bangs into the TFCC.
Scapholunate Sprains
The most commonly injured ligament is the scapholunate, which often occurs from a fall with an open hand. However, many times the scapholunate is not ruptured, but rather a sprain is causing the pain.
This type of wrist injury causes pain in the back of the wrist. Diagnosis is also with physical examination, radiographs, and sometimes an MRI. Many times, a patient can have fraying of the ligament which causes inflammation and pain, but the function of the ligament is still intact. If a rupture is ruled out, the pain usually is from ongoing overuse.
Triangular Fibrocartilage & Scapholunate Treatment Non-surgical
• Immobilization (splinting/bracing)
• Corticosteroid injections
• NSAIDs (nonsteroidal anti-inflammatory medication) Surgical repair
• Arthroscopic (minimally invasive approach is the most common procedure)
• Open procedures (depending on severity)
Alicia F. Cowan, M.D.
Hand, Upper Extremity and Microvascular Surgery
Fellowship trained specialist in Hand, Upper Extremity and Microvascular Surgery. Dr. Cowan loves her job because she is able to give form and function back to patients. She specializes in comprehensive treatment of hand and arm pain, tailoring treatment to each patient's special needs. Dr. Cowan has experience in adults and children and is fluent in Spanish.
Alicia Cowan, M.D. began her career at Fordham University in New York City, where she received a Bachelor of Arts. She continued to medical school at Temple University School of Medicine in Philadelphia. Dr. Cowan, known previously as Dr. Worden, completed her surgical internship at the University of California, San Francisco, followed by orthopedic surgery residency at Saint Louis University in Missouri. She pursued additional fellowship training in specialized hand and microvascular at the University of Miami in Florida.
She has a passion for medical mission work and pursued opportunities to volunteer in each phase of her training. Her prior trips include Colombia, Ecuador, Honduras, and Malawi. Dr. Cowan plans to continue her volunteerism in the future on other international surgical hand missions. During her free time, she likes to travel to foreign countries and practice yoga.
She is originally from Connecticut and has traveled the country for her training, but fell in love with Florida and decided to stay. Dr. Cowan is happily practicing in Fort Myers supported by her husband and Bruno, her dog. Dr. Cowan cares for her patients by taking the time to explain diagnoses and treatment plans to obtain the best functional outcomes for her patients.
Orthopedic Center of Florida
To schedule your appointment, please call (239) 482-2663
239-482-2663 | www.ocfla.net
12670 Creekside Lane, Fort Myers, FL 33919
References:
1. Teach Me Anatomy, "Anatomy of the Wrist", teachmeanatomy.org, 2019