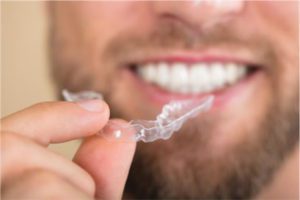 Nobody likes the idea of having crooked teeth. Unfortunately, it's a genetic unavoidability for some people. The good news is, orthodontic technology has improved a lot over the past decade. Where the only option used to be traditional wire braces, there are now several solutions to help children and adults straighten their teeth.
But which is the best way to straighten teeth without braces? That depends on several factors, like how much correction is needed, your lifestyle, and your budget.
At Porto Fino Dental, we offer clear plastic aligners from the SureSmile line of cutting-edge orthodontic products, as an alternative to braces. Much like braces, each aligner moves the teeth a little at a time, with the patient graduating to successive sets of aligners as treatment progresses.
Using digital oral impressions, Dr. Ricardo Bocanegra uses the SureSmile 3D treatment software to create a customized treatment plan for each patient. The SureSmile lab will then manufacture highly accurate plastic aligners which are sent directly to our office. These precise aligners are designed to fit over your teeth and worn every day. SureSmile Aligners are made of clear Essix® plastic so they're virtually invisible, plus easy to keep clean, and comfortable! It is recommended that they be worn for at least 22 hours a day, to be removed only for tooth brushing, eating, or social situations.
The key to desired results is patient compliance: patients MUST wear their aligners as prescribed, or treatment goals may not be reached. Aligners may not be for everyone—ultimately, it is up to your Doctor to determine if aligners are the correct course of action for your treatment plan—but they do carry some amazing benefits. A bonus of nighttime wear is that they help prevent clenching and grinding of teeth during sleep.
Why SureSmile as opposed to Invisalign or ClearCorrect aligners?
We put our trust in the SureSmile cutting-edge line of products because of the comprehensive tools they offer when it comes to customized orthodontic products. From treatment planning software, to appliance fabrication, to support, SureSmile offers a full range of services that streamline the patient experience. This allows for Doctors to access records, recall previous treatment procedures, and generate new appliances using saved information. At the forefront of the orthodontic appliance industry, SureSmile has got our back and yours when it comes to safe, high quality, and accurate treatment.
You may have seen advertisements for do-it-yourself clear aligners, which claim to do the job of professionally-applied braces and retainers for a much lower price. Most DIY orthodontic treatment companies only require a self-administered mold of the patient's teeth and a photo of their mouth. Send the mold and photo away and voilà, your very own customized clear aligners appear your doorstep. BUT! While this option may seem tempting, we strongly advise against it. Dr. Bocanegra has trained for years and is highly skilled at what he does, so embarking on an orthodontic treatment plan without a Doctor's guidance is high-risk with potentially irreversible negative results.
SureSmile – Virtually Invisible, Precise Treatment
Here are the top reasons NOT to try DIY aligners:
• No X-rays or exam required for treatment: A homemade mold and a selfie are not enough to determine the best treatment plan for a patient's teeth. Our office uses state-of-the-art technology, as well as our Doctors' expertise, to ensure the most accurate data is generated to embark on your treatment plan.
• Every patient is different, and some have more complicated cases than others: Again, there is no way a plaster mold and a photo carry enough information to convey all the nuances of a patient's particular needs when it comes to orthodontic treatment. Accurate diagnosis and treatment planning comes from experienced Doctor, and a remote company cannot possibly know exactly what kind of appliance you need without a thorough professional exam. An aligner may not even be the appliance a patient requires after all! Inaccurate or inappropriate appliances can make already complicated orthodontic cases much, much worse.
• Accurate impressions are difficult to take without professional expertise: Those without professional dental experience are not likely to generate accurate plaster impressions. And with our digital impression capabilities, we can already ensure a more accurate impression than any plaster could make, professionally-administered or otherwise!
• Regular check-ups are nonexistent: Without professional dental experience, a patient cannot know if their self-administered treatment is going according to plan. A Doctor can determine, through regular check-ups, if teeth are moving in the right directions, and can adjust accordingly.
Remember, Dr. Ricardo Bocanegra trained for years to ensure he delivers the most accurate, thoughtful, and safest care possible; a DIY aligner kit does none of that. With SureSmile Aligners, patients are guaranteed accuracy, high-quality materials, and the comfort taken when they know a professional has got their back. Our staff here at Porto Fino Dental can answer any questions you might have about whether SureSmile Aligners are right for you—we're committed to keeping our patients safe, informed, and most of all happy when it comes to their smiles!
Ready to straighten your teeth and fall in love with your smile? Give us a call to get started – 239-482-8806
Portofino Dental
6805 Porto Fino Cir., Fort Myers, Fl 33912
239-482-8806
www.portofinodental.org