By Greg Pascucci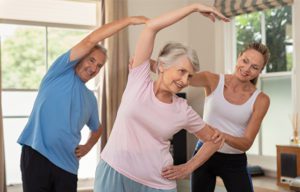 A Kaiser Health News article, "Seniors Need to Stay Active to be Healthy and Avert Loneliness," touts the benefits of older adults having purpose and meaning in their lives as they age. It's important to immerse one's self in a world filled with social connections, educational pursuits and opportunities for health and wellness.
For residents at The Carlisle Naples, an active retirement community, that world exists just a few steps from their front door. Each day offers endless opportunities for stimulating activities and outings as well as the option of being as relaxed as one pleases.
The community's full-time Zest Director and staff ensure 'round the clock classes, fitness program and special events. A typical day at The Carlisle includes approximately 10 different activities, designed to appeal to residents' mind, body and soul.
For early-risers, the morning may begin with a trip to the beautifully appointed restaurant, known for unhurried dining 12 hours a day. In the mood for a Denver omelet, cheese blintz with cranberry sauce or simply a toasted bagel with cream cheese? Executive Chef Marlon Perez caters to residents' requests by creating their favorite breakfast items—all made to order.
Following breakfast, residents can choose to participate in daily fitness classes offered: Aqua Motion class, Tai Chi, Therapeutic Yoga, Total Body Fitness, and Stretch & Tone. For those who prefer to skip the workout for a more tranquil activity, a walk along The Carlisle's meandering trails and tropical grounds offer the perfect option.
Plus, The Carlisle Naples' upcoming Summer Olympic Challenge is perfect for staying physically and mentally fit. Residents will engage in friendly competition, battling it out for bragging rights in events such as Ping Pong, Golf Chipping, Wii Bowling, Name That Tune and Jeopardy.
It's not uncommon to find residents enjoying the community's game rooms. At The Carlisle, there's always a partner to join a card or board game. Bridge, Poker, Mah Jongg, and Scrabble are just a few of the on-going activities scheduled throughout the day.
If one prefers a more private setting, The Carlisle's library offers best-selling novels in a variety of genres as well as local and national newspapers. The 24-hour Business Center also provides a relaxing setting in which to connect with children and grandchildren via computers.
For lunch, residents may choose to enjoy Chef Perez's daily special or join the Zest Department for a special outing to the area's finest restaurants and shopping centers. The Capital Grille and the Seminole Casino in Immokalee are among the July highlights.
There are also opportunities to give back both within The Carlisle and the external community. This month, for example, residents will volunteer at North Naples Church to help assemble food which will be delivered to local food banks.
Afternoons and evenings at The Carlisle are also bustling with activity. Our residents' love of culture is satisfied by outings to the Naples Philharmonic, Naples Performing Arts Center and other venues in and around Collier County. Additionally, the award-winning community offers live onsite entertainment featuring the area's most talented performers and musicians.
During the nightly Happy Hour, residents mingle for cocktails and before dinner drinks—much like a cruise ship or country club. As one resident pointed out, "Happy hour reminds us that we haven't left the mainstream of life."
Once Happy Hour ends, residents head to The Carlisle Room, which is open from 7 a.m. to 7 p.m. to continue socializing. Known for his "catch of the day" specialties which have included grilled mahi-mahi and honey bourbon broiled salmon, Chef Perez also serves a variety of homemade soups and desserts. Heart-
healthy meals are available too. The newly launched Fresh Zest initiative also offers residents plant-based options and nutritious yet delicious entrees which may include Artichoke with Cremini Mushroom Eggplant Cannelloni, Crispy Bean Chimichanga or Pad Thai Spaghetti Squash.
As the sun sets, residents may stroll to the in-house cinema to watch the latest blockbuster or attend one of the community's themed parties. Perhaps residents may choose to visit with friends and neighbors in the Grande Room or return their apartment, which not unlike any rental community, is decorated to their own personal tastes.
"Without the day-to-day responsibilities of housekeeping and maintenance, residents are afforded the opportunity to spend each day as they wish," said Executive Director Bill Diamond. "With so many different options available each day, residents are thrilled to discover new hobbies and interests or rediscover a passion. There really are unlimited options for how one chooses to spend their day."
Located at 6945 Carlisle Court in Naples, The Carlisle offers spacious one-and two-bedroom residences, weekly housekeeping and flat linen services, basic cable TV, all utilities except telephone, and a complimentary full breakfast plus choice of lunch or dinner in the community's gourmet-style restaurant. For more information about the community, please call 239-221-0017 or visit www.TheCarlisleNaples.com.
Luxury Rental Retirement Living
6945 Carlisle Court, Naples, FL 34109
239-221-0017 . www.srgseniorliving.com