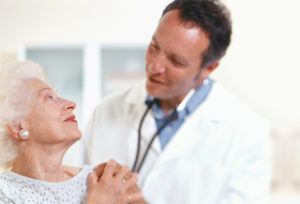 A trip to the emergency room can be a very stressful experience for anyone. For older adults, this experience can be intensified and especially difficult to navigate. The fact is, older adults can require lengthy evaluations, and there are physical, social, cognitive, and situational differences that come into play and affect how healthcare is delivered. That is why the Emergency Department at Physicians Regional-Collier Blvd. has enhanced their emergency rooms helping to make older adults feel more at ease and comfortable. "This was a year-long project for us identifying specific needs and implementing the necessary changes for our older adult patients," says Karen Hays, Senior Office Coordinator for the Emergency Department at Physicians Regional-Collier Blvd. "We have seen that even the smallest changes have made a significant difference."
The Center for Disease Control estimates that the visit rate in emergency rooms for older adults is 12 percent for injury and 36 percent for illness.1 As the adult population continues to increase and get older, visits to the emergency will also increase. In fact, a study conducted by George Washington University Medical Center in Washington, D.C. found that emergency room visits by the elderly have already increased more than 34% in a decade. "Emergency Departments are playing an increasingly important role in the care for older adults," says Christy De Leon, Director of the Emergency Room at Physicians Regional-Collier Blvd. "We are proud to be the only Older Adult ER in the area and believe the enhancements we made will better serve our demographic here in Naples, especially as it continues to grow."
The physical upgrades to better accommodate older adults in the ER at Physicians Regional – Collier Blvd. include:
• Private patient rooms
• Special beds with thick, soft mattresses
• Larger, easy to read clocks
• Softer lighting
• Soothing room colors
• Large and easy to operate remote for nurse call and TV
• Arm rest seating and recliners for family comfort
• Portable CD player offering 1940's hits geared for patients with dementia
While not immediately visible, one notable enhancement is the specially trained clinical staff to care for older adults. All of the Emergency Department staff and medical providers have completed at least ten hours of geriatric care education, providing them with the extra know-how in caring for and addressing age related issues.
In addition, the ER provides a 30-minutes-or-less Service Pledge where a patient's time will be noted when they enter emergency room, and a medical professional will work diligently to have them initially seen within 30 minutes or less of their noted arrival. This allows them to receive faster care and quickly gets them into a less noisy environment when in triage. Each patient room is also enclosed with sliding glass doors that helps drown out hallway noise.
"We make a special effort to know what matters to them, and by going the extra mile with these enhancements, we hope to make their experience a more positive one," says Christy De Leon.
The emergency room at Physicians Regional – Collier Blvd. has 18 private rooms, offers 24-hour care by board-certified physicians and is conveniently located in East Naples at 8300 Collier Blvd, Naples, FL. It is a Certified Primary Stroke Center and Accredited Chest Pain Center by the American College of Cardiology.
PhysiciansRegionalMedicalGroup.com
1 https://www.cdc.gov/nchs/products/databriefs/db272.htm