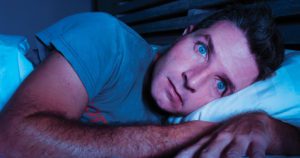 Are you getting a good night's sleep?
Do you have insomnia?
If you experience sleep disturbances, not only are you less effective at work and with daily activities because you're exhausted, but it may have significant repercussions on your overall health. If you have trouble falling asleep, or you find yourself waking up during the night, unable to fall back to sleep, negative health conditions often coincide with sleep disturbances like the following:
• High blood pressure
• Cardiovascular disorders
• Chronic disease
• Diabetes
• Dementia
• Depression
• Behavioral issues
• Stroke
• Brain health impairment
• Delayed Reactions and Safety Concerns
Your CBD Store Cape Coral has a natural alternative to sleeping pills. With their CBD products, you can say goodnight and good riddance to sleeping issues. Their organic, CBD may help you fall asleep safely. Your CBD Store Lakeland is a revolutionary leader in the production and distribution of industrial hemp oil. Their company searched extensively to find the purest CBD on the market, which has zero levels of THC.
Recent Study on CBD & Insomnia
Though psychoactive, THC is known for its sleep-inducing ability, CBD is known for countering the effects of THC, and instead, providing a more alertstate of mind. You may think that this would be ineffective in treating insomnia – but a study published in March 2013 by the Department of Neuroscience and Behavior of the Ribeirao Preto Medical School, University of Sao Paulo, Sao Paulo, Brazil says otherwise. The study was conducted on male Wistar rats which were randomly distributed into four groups that received injections of CBD in either 2.5mg, 10mg, or 40mg, with one being a control group. Sleep recordings were made during the light and dark periods for four days and found that the groups who received 10 and 40mg of CBD increased the total percentage of time asleep.
This suggests that CBD could possibly help increase the total amount of time that you sleep at once – helping insomniacs get a full night's rest without the use of chemical sleep aids. This is more evidence that CBD can work similarly to THC without having a psychoactive impact that is debilitating or in some situations cause drowsiness that is too much for normal function.
If you have diagnosed insomnia, tinctures of CBD oil or supplemental versions may be suitable for your condition.
Why Choose Your CBD Store?
Their SunMed Products are Superior!
SunMed Broad Spectrum Hemp Oil products are made with the highest quality, organically grown hemp; it comes from Denver, Colorado and is registered with the Colorado State Department of Agriculture. The phytocannabinoid rich (PCR) hemp has a naturally high CBD level, as well as an abundance of other beneficial cannabinoids (CBG, CBN, CBC) as well as flavonoids, terpenes and essential amino acids.
While most CBD oil companies extract CBD making a pure CBD isolate, SunMed offers a high-CBD broad spectrum hemp oil, without the THC. By extracting the THC patients can gain the benefits of other cannabinoids and terpenes that are lost in pure CBD oil products available from other brands.
SunMed Broad Spectrum Hemp Oil and SunMed Hemp Oil products are intended to be used as an herbal supplement. Please consult your doctor before you quit taking any medications with intentions of replacing them with the natural and holistic option of CBD.
These products have not been reviewed by the U.S. Food and Drug Administration (FDA) and are not approved treatments for any medical conditions.
Your CBD Store Cape Coral
At Your CBD Store Cape Coral, we believe in bringing the highest quality CBD products to market. We formulate our products with our customers' needs in mind, using other cannabinoids and terpenes, creating unique synergies that increase efficacy, target specific ailments, and increase the binding of CBD. We believe you the customer should see our product from soil to oil and should be seeing the best product on the market along that journey. By setting the standards in the CBD industry, Your CBD Store Cape Coral is moving plant medicine to the 21st century.
Your CBD Store Cape Coral
Cape Coral
1532 SE 47th Street
239-217-0197
CapeCoral.CBDrx4u.com