By Arietta Living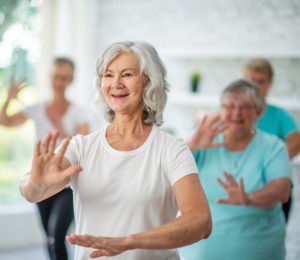 The changes to our bodies as we age can make everyday tasks more challenging. At Arietta, we've learned many senior hacks – tips and shortcuts to make life more convenient, so that you or a loved one can continue to enjoy everyday activities. Here are a few of our favorite shortcuts to make life easier.
Senior Hacks for Memory
Take photos of the food in your refrigerator so you know what to stock up on. While you are at it, take a photo of the contents of each of your storage containers. Tape the photo to the outside of the container so you know what's inside.
Use colored stickers to label keys, remote control buttons and bathroom faucets to take the guesswork out of picking the right one.
Listen to your favorite music to boost memory and reconnect with loved ones.
Seniors Hacks to Prevent Falls
Bathroom: For safety in the shower, put a bar of soap in an old stocking and tie one end of the stocking closed. Tie the other end to the shower handle so that if the soap falls, it can be safely retrieved by pulling up the stocking. Use grab bars, a shower chair and a bath mat in the shower.
Stairs: Place a strip of bright-colored duct tape at the edge of each step in a stairway to make it easier to judge the height and depth of the steps.
Tai Chi: Practice this gentle form of exercise to improve balance and reduce the risk of falling.
Seniors Hacks for Sight and Hearing
Low-vision aids can provide help for reading a favorite book, writing letters, and seeing family and friends. Enhanced Vision is a company that produces vision aid products.
Some libraries offer a "talking book" program that provides visually impaired persons with books they can listen to. To find your local participating library, go to www.loc.gov/nls/find.html or call 1-888-657-7323.
Hearing loss can be alleviated with a phone that captures the caller's words on a screen that the individual can read. Check out this service at ClearCaptions.com.
Senior Hacks for Shopping and Meals
When out shopping, use a fanny pack for easy access to what you need and to keep money more secure.
For easier cooking, buy meats that are already seasoned and pre-packaged veggies and fruits.
If cooking is not an option, try Meals on Wheels for low-cost meals delivered to the home. In addition to cooked meals, some locations offer safety checks and companionship during meals. Visit MealsOnWheelsAmerica.org to find a Meals on Wheels near you.
Senior Hacks for Exercise
For a low-impact way to stay fit, sit in a chair and move your arms and legs. Use a can of beans to add strength training to the workout.
Try water aerobics for a full-body workout that's easier on the joints. Look up a class at your local YMCA.
Senior Hacks for a Better Grip
Conditions like arthritis can make it difficult to get a firm hold to open jars, use utensils and pull up a zipper. Try putting several rubber bands spaced apart around a glass for a better grip.
Use rubber gloves with grips to open containers.
A bobby pin or key ring can help in pulling up zippers that are hard to grasp.
Our wish is that these hacks will make life go more smoothly.
Let us know your favorite hack from this list or share with us a hack you use at home to make life easier.
To learn more, please call 941-549-8811 or visit AriettaLiving.com.
Discover the Arietta Lifestyle
Life is a musical journey. Arietta offers independent living in Sarasota, FL for adults who are ready for their next adventure in life. Much like notes on a page that guide music, Arietta (meaning melody) guides you through a life of purpose and passion. Spacious layouts and modern amenities welcome you home to a lifestyle designed your way. Focus on your best life without worry.