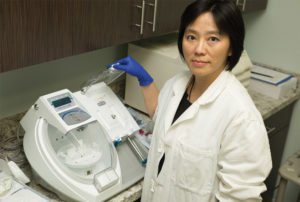 Re3 Healing Aesthetics and Wellness, located in Sarasota, Florida, offers rejuvenating treatments to improve wellness both inside and out. Led by Dr. Bonnie Wang, their holistic practices help nourish the mind, body, and soul to enhance the quality of life of their patients.
Within a relaxing medical spa setting, the providers at Re3 Healing offer advanced, noninvasive aesthetic services, such as facials, body sculpting, and microneedling to help improve appearance and self-esteem. These treatments can help reverse the signs of aging and lead to more beautiful, glowing skin.
Recently, Re3 Aesthetics and Wellness added Jessica Sands, a Nurse Practitioner to their team.
Jessica Sands
Jessica is a board-certified, doctorate prepared, family Nurse Practitioner who is dedicated to helping her clients feel and look beautiful. She provides a holistic approach that incorporates her love for nutrition and wellness; to target the internal and external aging process.
She completed her doctorate at the University of South Florida, specializing in family medicine and dermatology. She believes that education never ceases, and prides herself in providing her clients with evidence-based care.
Jessica formerly worked in one of Ohio's top Medical Spas. She has collaborated with master injectors across five states and worked with two directing physicians who are apart of Allergan' medical advising board.
Jessica specializes in non-surgical full facial rejuvenation and body contouring; by the way of dermal filler and wrinkle-smoothing injections. She provides skin resurfacing, intense pulsed light, laser hair removal, microneedling, medical-grade skin care and dermal fillers, such as Juvederm, Restylane, and Sculptra. Jessica has a passion for regenerative therapies and works along-side regenerative medicine expert Dr. Bonnie Wang. Together they offer platelet rich plasma and platelet rich fibrin for both hair loss, facial and body rejuvenation.
Jessica is a born and raised Floridian who has deep ties within the Suncoast. She recently married her soulmate this year upon the Cliffs of Moher in Ireland. Her husband, Brian, and their dog Einstein enjoy spending their days off from work exploring the Florida coastline.
Re3 providers offer services to facilitate wellness by reducing pain, improving nutrition, and treating skin conditions. In combination, these services help patients express both their inner and outer beauty, improving the way they look and feel.
The experienced and well-trained staff at Re3 Healing Aesthetics and Wellness delivers outstanding results for all patients while ensuring comfort and safety. They are dedicated to holistic, personalized care to ensure each patient achieves better wellness.
Re3 Healing Aesthetics and Wellness is partnered with RE3 Innovative Neuroscience Institute. They offer cutting-edge, state-of-the-art regenerative therapies and alternative treatment options. Their facilities are results driven, health-oriented, and designed with their patient in mind.
Re3 Healing Aesthetics and Wellness
4012 Sawyer Road , Suite 101-104
Sarasota, FL 34233
Phone: 941-893-2688
RE3Healing.com