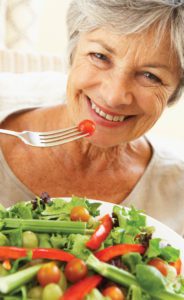 The incidence of community-acquired pressure ulcers appears to be on the rise. The development of pressure ulcers is multifactorial, but one study suggests that compromised nutritional status is the single strongest predictor of pressure ulcer development and pressure ulcer severity among patients receiving home health. The authors suggest that the strength of nutrition in their analyses was based on the availability of physical therapy and pressure-relieving devices compared to the relative lack of nutritional intervention. Among older adults, the prevalence of malnutrition ranges from 17% to 65% – depending on the group and setting. Patients from rehab facilities, long-term care residents, and elderly patients requiring a higher level of care make up the upper end of that range. The prevalence of malnutrition among older patients presents a particular concern for doctors and care planners, because malnutrition has been connected with increased re-hospitalization, increased length of stay with inpatient care settings, falls, hip fractures, depression, poor quality of life, and increased mortality.
Studies demonstrate that improving nutritional status in older adults is possible, but only with intensive training that should usually involve family caretakers. Malnutrition among community-dwelling, elderly patients, proves hard to treat because it tends to stem from geriatric decline in physical and cognitive function. The increasing effort required for normal home tasks contributes to over-reliance on convenience foods while cognitive decline hampers meal planning. One solution is long-term home care, especially long-term home care that combines aide support with as-needed skilled nursing. While adhering to a nutritional or therapeutic diet falls within a home care aide's services, nutritional training exceeds the aide's scope of practice. Home care's model of repeated home visits fits the examples of successful dietary training in the research. Then aides, who visit more often, can assist with meal planning and preparation. Aides can report non-adherence to the nurse care planner. With McKenney Home Care, aides can even do the grocery shopping for clients.
If you have a friend or loved one at risk of pressure ulcers, McKenney Home Care can assist with nutrition and more:
• Nutrition
• Skincare – especially assistance with moisturizing
• Bathing
• Routine Observation of Skin Condition: McKenney Home Care aides are trained to recognize stage 1 pressure ulcers.
When ulcers form, they can notify family and physicians in a timely fashion and trigger a response to prevent ulcer progression:
• Ambulation and transfer assistance to keep patients active and reduce pressure on problem areas
• Incontinence management
• Repositioning for bed-bound patients
• Assistance with implementation of pressure-reducing devices
If you have a patient, friend or loved one with pressure ulcers, please consider an evaluation for home care needs. Signs of a need for home care include slow gait, slow transfers, malnutrition, dehydration, family caregivers complaining of no support, cognitive decline, and more. Please call McKenney Home Care at (239) 325-CARE (2273).
McKenney Home Care, in Naples, FL will be hosting a Lewy Body Dementia Support Group, starting in January 2018. This will be an ongoing support group approved by the Lewy Body Dementia Association in Atlanta, and in affiliation with the Parkinson's Assocation of SWFL, and the Alzheimer's Support Network.
McKenney Home Care provides exceptional in-home health services and client-centered care. With a passion for maximizing the quality of life of their clients and their families, they are driven to ensure social engagement and specialty services during all stages of life.
For Individuals with neurodegenerative disorders, McKenney Home Care delivers enriched specialized training for its caregivers working with Dementia Patients. In addition to specialized videos and manuals, McKenney educates the caregivers through the use of the Virtual Alzheimer's App. This virtual reality experience helps caregivers understand the feelings and experience of those suffering from Alzheimer's and other forms of Dementia.
Along with their medical expertise, McKenney Home Care is a certified Music & Memory Agency. Providing help for Dementia Patients; this specialized music therapy program is highly personalized and has been shown to reduce the need for anti-anxiety and antipsychotic drugs by up to 50%, while brining joy to the lives of patients who have Dementia.
If you or someone you know would like more information about McKenney Home Care or the LBD Support Group, please call McKenney Home Care at 239-325-2273, or visit mckenneyhomecare.com.
CALL US TODAY!
239-325-CARE (2273)
9655 Tamiami Trail North #201
Naples, FL 34108