Michael J. Petrocelli, D.P.M., F.A.C.F.A.S., C.W.S.P.
Board Certified Ankle and Foot Surgeon and Board Certified Wound Care Specialist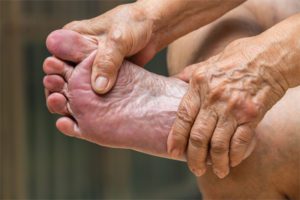 The posterior tibial tendon is what holds the arch of the foot in place and it supports walking function. It is said to be one of the most important tendons in the foot and leg region. However, this tendon commonly becomes inflamed and tears due to overuse and improper foot and leg alignment.
Symptoms of a Torn or Inflamed Tibial Tendon
• Pain along the inside of the foot and ankle, where the tendon lies. This may or may not be associated with swelling in the area.
• Pain that is worse with activity. High-intensity or high-impact activities, such as running, can be very difficult. Some patients can have trouble walking or standing for a long time.
• Pain on the outside of the ankle. When the foot collapses, the heel bone may shift to a new position outwards. This can put pressure on the outside ankle bone. The same type of pain is found in arthritis in the back of the foot.1
It's rare that posterior tibial tendon dysfunction would require surgery, but that might be the only option in certain situations of severity or if a patient has let the condition go without conservative treatment. Although the condition is quite painful, most cases of posterior tibial tendon dysfunction respond well to nonsurgical treatment options.
Nonsurgical Treatment
• NSAIDs (Nonsteroidal Anti-inflammatory Drugs)— Ibuprofen or naproxen can reduce pain and inflammation.
• Rest—Stop or decrease activity and standing for long periods of time.
• Ice—Apply cold packs 3 to 4 times per day at 20 minutes each to decrease inflammation
• Immobilization—A walking boot or leg cast maybe used for 4 to 8 weeks depending on the severity of the injury
• Orthotics—Shoe inserts or orthotic shoes can help support the arch of the foot and correct the position, as well increase better mobilization.
• Braces—Lace-up ankle brace may help support the foot and it's functioning
• Steroid Injection—Corticosteroid injections are anti-inflammatory and might be an option depending on your podiatrists recommendation.
• Physical Therapy—Can help to retrain the foot position and walking mechanism as well as strengthen the tendon and surrounding muscles.
If surgery is necessary, there are several options from tendon lengthening, tendon transfer, fusions and others depending on the specific condition of the tibial and surrounding tissues.
Collier Podiatry
Collier Podiatry, P.A., is the practice of Dr. Michael Petrocelli, a board-certified podiatrist who has been practicing since 1994. For well over 20 years, he has been an expert in his field and a leader to his peers. If you are experiencing any foot pain or foot conditions, please contact Collier Podiatry.
Dr. Petrocelli diagnoses your condition using X-ray imaging and other standard diagnostic methods. Many foot conditions can be relieved with non-invasive treatments like orthotics, stretches, and medications. If needed, we also offer state-of-the-art treatments, including injections and surgery. Dr. Petrocelli will examine your foot and prescribe a personalized podiatry treatment plan.
Dr. Petrocelli is a part of the following organizations:
• Diplomat of the American Board of Podiatric Surgery (And Board Certified in Foot Surgery)
• Fellow of the American College of Foot and Ankle Surgeons
• Fellow of the American Professional Wound Care Association
• Member of the Society for the Advancement of Wound Care
• Member of the American Diabetes Association
• Member of the America, Florida, and Collier County Podiatric Medical Associations
• Frequent Lecturer on Diabetes Wound and Ulcer Care
The kind and well-trained staff at Collier Podiatry are ready to answer your questions and concerns and get you back on your feet again. Collier Podiatry is available to answer your questions and make your appointment. Please visit their website at www.collierpodiatry.com, or call them at (239) 775-0019
Collier Podiatry
239-775-0019
www.collierpodiatry.com
NCH Countryside Commons
1715 Heritage Trail, Suite 204
Naples, FL 34112
Phone: (239) 775-0019
Fax: (239) 775-0219
References:
1. B. Weatherford, MD, AAOS, "Posterior Tibial Tendon Dysfunction, Symptoms," 2019, https://orthoinfo.aaos.org/en/diseases–conditions/posterior-tibial-tendon-dysfunction/