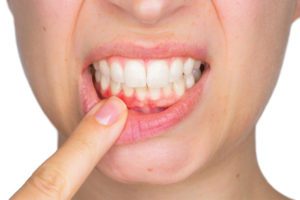 Bone loss is a common side effect of periodontal disease. Once the bone is gone, it will not naturally regenerate without periodontal intervention. If there is infection present, which is more often than not the case, the bone will continue to deteriorate and can lead to facial malformations and loss of teeth.
Periodontal Disease Leads to Bone Loss
If you have any form of gum discomfort, bleeding or bad breath, it's important to consult with your dentists about getting your conditions treated right away. Often, just getting a deep scaling, which is a cleaning that goes above and below the gum line, will correct mild to moderate periodontal (bone) disease. Loose teeth and infection in your gingival tissues, are easily treated by a periodontal specialist, as they can provide you with options to get your mouth healthy again. These include deep scaling's, gingival grafts, laser treatment (LANAP), and pocket reduction procedures. Periodontists must complete three more years of specialized training along with their DMD to become a specialist.
The Catch 22 of Bone Loss and Tooth Loss
Over time, teeth can begin to break down with wear and tear or inadequate hygiene. Periodontal disease within the supporting gingival tissue and the maxillary (upper jaw) and mandibular (lower jaw) ridge will begin to degenerate the bone. Once this happens, tooth loss is common due to weakened support.
Tooth loss exacerbates bone loss. How? When a tooth is extracted, the alveolar sac (bone socket) begins to degenerate, and the surrounding jaw structure will as well. Bone loss can change facial structures drastically. The outcomes are an increased aging effect with noticeable sagging and gaunt like features.
What are the Alternatives?
Bone grafting and dental implants are essential to regenerating the bone structures and maintaining facial shape and contours.
Bone Grafting Procedure
Procedures that regenerate lost bone and tissue supporting your teeth can reverse some of the damage caused by periodontal disease. Your periodontist may recommend a regenerative procedure when the bone supporting your teeth has been destroyed due to periodontal disease. These procedures can reverse some of the damage by regenerating lost bone and tissue.1
During this procedure, your periodontist folds back the gum tissue and removes the disease-causing bacteria. Membranes (filters), bone grafts, or tissue-stimulating proteins can be used to encourage your body's natural ability to regenerate bone and tissue. Eliminating existing bacteria and regenerating bone and tissue helps to reduce pocket depth and repair damage caused by the progression of periodontal disease. With a combination of daily oral hygiene and professional maintenance care, you'll increase the chances of keeping your natural teeth – and decrease the chances of other health problems associated with periodontal disease.1 Bone grafting is a critical intervention for anchoring and maintaining tooth structure. It also is incredibly vital in regenerating lost bone and prevent facial malformation.
Dental Implants
Implants are the ideal resolution (titanium post and porcelain crown). In addition to preventing further bone loss and facial contour changes, if you leave an open space (from a lost or extracted tooth) between teeth, the proximal teeth will shift, trying to fill in the interproximal space. The occluding tooth will also start to emerge from its socket, attempting to find a natural occlusal equilibration. Over time, this causes more periodontal disease and more bone loss. Dental implants can be used to replace one or multiple teeth. Implants are also a remarkable solution for holding in a permanent bridge or as an anchor(s) for dentures.
Viruet Periodontal Services
• Dental Implants
• Periodontal Treatments
• Laser Dentistry
• Cosmetic Periodontal Surgery
• Crown Lengthening
• Gum Grafting
• Pinhole Surgical Technique
• Bone Regeneration
• Scaling and Root Planing
Krystal Reyes-Viruet, DMD
Board Certified Periodontist & Implant Surgeon, Diplomate of The American Board of Periodontology, Certified in IV Sedation
A Diplomate of the American Board of Periodontology, Board Certified Periodontist and Dental Implant Surgeon and an IV Sedation provider, Dr. Krystal Reyes Viruet has many talents. She attended the University of North Carolina At Chapel Hill where she completed a three year Periodontology Residency, and Master of Sciences. Dr. Reyes Viruet completed a general practice and hospital residency at Rutgers School of Dental Medicine where she had the opportunity to treat severely medically compromised patients, as well as, oral cancer patients. Dr. Reyes Viruet graduated with a Doctorate in Dental medicine from the University of Puerto Rico where she distinguished herself first in her class! She trained at the Pinhole Academy and became a Certified Pinhole Technique Surgeon. She also became a Certified Laser Periodontal Surgeon.
To find out more please call 941-999-1169 or visit Dentistinfortmyers.com.
34 Barkley Circle
Fort Myers, FL 33907
941-999-1169
Dentistinfortmyers.com
Reference:
1. American Academy of Periodontology, Regenerative Procedures,
2019, Chicago, Il, https://www.perio.org/consumer/gum-disease-
regenerative-procedure