By Patrick Nero, MD, FACS, RPVI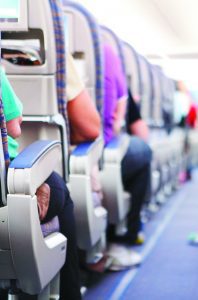 Modern air travel can be challenging for any number of reasons – long lines, cramped seats, and poor customer service to name a few. At Vein Specialists, many of our patients have a hard time with air travel for other reasons. They have a hard time sitting for prolonged periods and develop leg swelling and pain on flights of even a couple hours duration. I have had many patients report that their legs ache by the end of the flight or that they have a hard time getting their shoes back on when it is time to exit. These symptoms are often due to a medical condition known as venous insufficiency.
Venous insufficiency is a condition where the valves in the superficial venous system in the legs fail and over time this leads to impaired blood return to the heart. Blood pools in the leg veins, especially when standing or sitting for a prolonged period of time, as occurs when you are trapped with your feet down in an airline seat. This leads to abnormally high pressure in the veins or venous hypertension. It is this venous hypertension which leads to the achy, heavy, swollen legs and feet people experience after a long flight.
Pooling and stasis of blood in the leg veins with prolonged sitting also can lead to deep venous thrombosis or DVT. It is recommended that you get up and walk, do calf exercises and wear compression socks during travel to minimize this risk. DVT can be difficult to diagnose and may be asymptomatic in up to half of patients. It is important to be evaluated and get an ultrasound if you have any lingering swelling or discomfort in your legs after a flight.
Venous insufficiency is a very common and underdiagnosed condition affecting millions of Americans. It is estimated to be present in as much as 40% of the population and becomes more prevalent after age 50. Heredity is the major risk factor, as are a history of blood clots or DVT, obesity, and a standing or sedentary occupation. Female gender and prior pregnancies are also risk factors, though venous insufficiency afflicts many men as well.
People are usually aware of the most common sign of venous insufficiency which is varicose veins, but many people without varicose veins also have this condition. Swelling as well as achy, heavy or tired legs at the end of the day are frequently reported and in severe cases, the skin around the ankles can become
discolored, thickened or even ulcerated.
Pressure in the venous system builds throughout the day when patients are on their feet, so symptoms are often worst in the evening or at bedtime. This is when the lesser known symptoms of venous insufficiency such as restless legs, leg cramps or excessive urination become problematic and can affect sleep.
A trial of compression hose best predicts if these symptoms will respond to venous interventions.
At Vein Specialists, we offer comprehensive, modern vein evaluation and care. Dr. Joseph Magnant and I are board certified surgeons focused 100% on the management of venous disease. We start by performing a complete history and physical examination and then offer detailed ultrasound evaluations in our office allowing us to formulate the best treatment plan for each patient.
The first thing done in every ultrasound performed in our office is to exclude or rule out DVT as the cause for the patient's leg swelling or pain. The exam then proceeds to evaluate and map the entire venous system to check for reflux or insufficiency. When a DVT is discovered, the patient is notified before leaving our office and is seen by a provider who can then initiate anticoagulation (blood thinner) if indicated to treat the DVT.
Modern vein evaluation and intervention is much different than it was years ago when
procedures such as vein stripping were invasive, required general anesthesia, and had unacceptably high complication rates. In many cases the best treatment option for patients with venous insufficiency today is endovenous ablation.
This is accomplished with either laser or radiofrequency catheters that heat and permanently seal the poorly functioning vein decreasing the venous pressure in the legs and significantly improving symptoms and appearance. This procedure is minimally invasive and offered under local anesthesia in both our office
locations with minimal discomfort.
The newest treatment option for vein closure is Venaseal™, which closes the vein using a medical adhesive rather than heat. This technique offers the advantage of requiring fewer injections and allowing us to treat the entire length of the vein from groin to ankle as there is no risk of heat induced nerve injury.
Venaseal™ has been proven to be as effective as thermal ablation and is now covered by Medicare.
At Vein Specialists we offer comprehensive vein care and also perform removal of varicose veins through small incisions, called microphlebectomy, as well as injection sclerotherapy for bleeding or spider veins. Intravascular ultrasound (IVUS) for the investigation of patients' pelvic or iliac veins is now available and may be appropriate for patients who have failed previous vein treatments, have had recurrence of symptoms, or have more advanced venous disease with severe edema, skin changes or ulceration.
If you or a loved one has achy, swollen legs after a flight, or if you have varicose veins or any of the other signs or symptoms of venous insufficiency, please consider visiting our website at Weknowveins.com for more information. Dr. Magnant and I see patients along with our highly skilled nurse practitioners in both our Fort Myers and Bonita Springs/
Naples locations daily, so call for an appointment today.
If the symptoms in this article sound familiar take our Free Vein Screening at: WeKnowVeins.com or call 239-694-VEIN(8346)
Vein Specialists
1500 Royal Palm Square Blvd., Suite 105, Fort Myers, Florida
3359 Woods Edge Circle, Suite 102, Bonita Springs, Florida
Leaders in Vein Treatment
Joseph G. Magnant, MD, FACS, RPVI and Patrick A. Nero, MD, FACS, RPVI are both fellows of the American College of Surgeons and are board certified by the American Board of Surgery.
Dr. Magnant earned his medical degree from Medical College of Virginia. He completed a general surgery residency at Medical College of Virginia Hospitals and a fellowship in vascular surgery at Dartmouth Hitchcock Medical Center, Lebanon, NH. Dr. Magnant of Vein Specialists focuses exclusively on vein evaluation and modern treatments in a dedicated, outpatient, vein-centered facility. Dr. Magnant is an active member of the American College of Phlebology, Society for Vascular Surgery and Society of Vascular Ultrasound.
Dr. Nero earned his Bachelor of Science degree in Pre-Medicine from the University of Dayton in Ohio and his medical degree summa cum laude from The Ohio State University College of Medicine. He completed a residency in general surgery through the Phoenix Integrated Surgical Residency program.
Dr. Nero is a diplomate of the American Board of Surgery and a member of the  American College of Phlebology and the Society for Vascular US. Dr. Nero joined Vein Specialists
in 2016.