By Joseph Gauta, MD, FACOG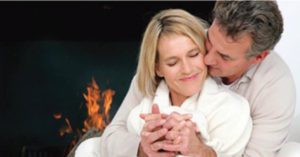 Who doesn't want to feel better and more confident about their sexual health? Many women try to hide their condition from their partner, or suffer in silence because they believe it's "normal" for them. That couldn't be further from the truth. Whether your pain is caused by endometriosis, pelvic conditions, vulvovaginal atrophy, hormonal dysfunction, or from medications, there are answers.
Female Sexual Dissatisfaction Has Many Causes
Natural processes like aging, childbirth and menopause can have deleterious effects on a woman's sexual well-being and sensations. Since we all tend to avoid anything that doesn't feel good, a woman's sexual desires and success in achieving them are inversely related to the atrophy and scarring in the vaginal canal that these life-events can create, like tearing of the vagina during childbirth, dryness of the vaginal tissues after menopause, and the laxity of the vagina causing decreased sexual sensation. Sexual satisfaction can be negatively impacted by hormonal changes after menopause, but many women cannot take vaginal estrogens or do not find this treatment to be effective or convenient enough. This is where laser energy comes in: CO2 laser energy has been proven to regrow normal collagen (a necessary protein found in all of our organs) in the vaginal and vulvar tissues leading to improved "accommodation" and "stretchiness" of the vagina which in turn leads to greater sexual satisfaction and lubrication and a decrease in discomfort during and after sex.
CO2RE Intima
Although, hormone therapy can be used to treat vaginal vulvar atrophy and dyspareunia (painful intercourse), sometimes it isn't enough. The CO2RE Intima procedure has helped countless women enjoy life like they used to. It is noninvasive, nonsurgical and is performed in your physician's office.
You don't have to live with pain and dryness any longer. There is a better way to age well, enjoy intimacy again and regain your life.
CO2RE Intima Benefits:
• CO2RE Intima is an in-office, non-surgical laser procedure to restore vaginal health, by improving hydration and promoting healthy vaginal pH
• Each CO2RE Intima treatment relieves symptoms of vulvovaginal atrophy, rejuvenates vaginal tissue and treats exterior tissue to improve vaginal cosmetic appearance.
• 100% showed significant improvement in vaginal health (elasticity, fluid volume, pH level, epithelial integrity and moisture)
• 91% reported an improvement in dryness
C02RE Intima might be for you if:
. You want to relieve the signs of childbearing and aging in the vaginal area.
. You desire enhancement in sexual functioning and a better sexual experience.
. You seek vaginal cosmetic improvement and you want to feel more confident about your feminine health.
10 Minute, Hormone Free, ln-Office Procedure
Ask us today of C02RE Intima is right for you
To discuss CO2RE Intima or any other options that are best for you, please call 239-449-7979
Joseph Gauta MD
Dr. Gauta is certified by the American Board of Obstetrics and Gynecology in the subspecialty of Female Pelvic Medicine and Reconstructive Surgery (Urogynecology). He is the founder of the Florida Bladder Institute, the region's premier Urogynecology practice specializing in treating women with urinary incontinence, bladder and bowel dysfunction, pelvic floor disorders, organ prolapse, pelvic floor reconstruction, and a variety of other complex women's health issues.
Florida Bladder Institute
1890 SW Health Pkwy, Ste 205, Naples, FL 34109 Phone: 239-449-7979
www.floridabladderinstitute.com