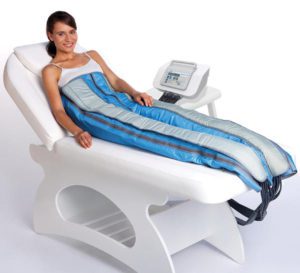 The Tree of Light, health and wellness studio in Naples offers alternative therapy via light therapy and infrared sauna that clients rave about, but recently, they've added another impressive machine to their protocol that provides lymphatic drainage.
Lymphatic Drainage Benefits
It's important to keep the lymphatic system working correctly because lymph nodes regulate the immune system and keep it efficient in detoxification. Improving the flow and drainage is good for the body and health in many ways, such as helping to ward off colds and viruses, and to help the body fight infections. Lymphatic drainage reduces water retention, which may lead to swollen feet or fingers, and it can boost weight loss as it increases your metabolic rate and helps to burn more calories.
Good lymphatic drainage can improve skin texture and reduce puffiness and swelling. Cellulite can also be improved as the massage increases blood flow and circulation. This helps the body break down toxins, which can cause the unpleasant appearance of cellulite. Lymphatic drainage is exceptionally beneficial both before and after plastic surgery or liposuction, and it's extremely helpful for cancer patients.
Introducing the Ballancer Pro
The Ballancer Pro is a state of the art compression therapy system, which is known as the gold standard for lymphatic drainage. The Ballancer Pro® is an FDA cleared compression therapy system, made in Israel by one of the world's leading medical device manufacturers. Tree of Light is one of the few providers in all the United States to offer this state of the art system!
What Makes the Ballancer Pro so Unique?
Originating in the medical field and made by the leading manufacturer of compression therapy systems. The Ballancer Pro was initially developed for Lymphedema and Lipedema patients. Gaining huge success all across Europe and backed for 40 years of proven clinical studies state of the art Ballancer Pro is known as the gold standard for lymphatic drainage, enhancing circulation and recovery as well as reducing muscular aches and pain.
Top tier surgeons, Medspas, Weight loss centers, Body contouring clinics and some of the best Holistic wellness centers and Doctors, as well as professional sports teams and facilities, rely on the Ballancer Pro for consistent results and happy clients.
To start your way to better health, contact Tree of Light Center today at (239) 692-9367, or visit treeoflightcenter.com