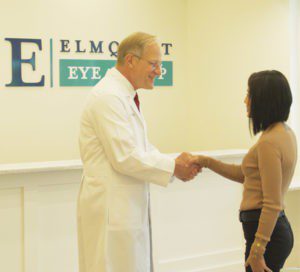 If you're making a New Year's resolution to improve your overall health and wellness, there's one area you may have overlooked. In addition to diet, exercise and annual physicals, don't neglect the importance of your sight.
You may be wondering if an eye exam is truly necessary unless a noticeable loss in vision or eye injury occurs. You're not alone – according to the National Eye Institute, more than 23 million Americans age 18 and older have never had an eye exam. However, the answer to your question is a resounding "yes!" A comprehensive eye exam is a vital component of an all-inclusive health and wellness regimen, and the first step toward better overall eye health.
"Regular eye exams are critical for your eye health," said Dr. Trevor Elmquist, founder of Elmquist Eye Group. "During your visit to the eye doctor, trained ophthalmologists and optometrists can take an in-depth look inside your eye. This allows us to investigate for any complications and diagnose more subtle forms of vision loss or other serious health conditions related to the eye."
Here are three reasons why eye exams should be at the top of your list for 2020:
1. Eye exams help you see clearly
Eye exams are essential to stay up to date on the health of your eyes, and an annual refraction is vital to determine your best potential vision. A refraction, also called a vision test, is routinely given during an eye examination and is designed to tell your doctor if you need prescription lenses.
A refraction will determine the presence of ametropia, an error in the focusing of light rays as they pass through the cornea and retina of the eye. This results in reduced visual acuity. Some refractive errors include farsightedness, nearsightedness and astigmatism. The refraction test will determine what corrective lenses are needed for you to achieve your optimum vision.
2. Eye exams detect warning signs you may have missed
A comprehensive eye exam provides ophthalmologists and optometrists an opportunity to monitor, detect and treat developing eye conditions before vision loss occurs.
Subtle changes in vision can easily be written off or missed entirely. However, in some cases, these changes may be a sign of a more serious condition or disease. Regular eye exams can help detect the gradual changes that may have gone unnoticed.
3. Eye exams preserve your vision
Many sight-altering eye conditions can be detected during an eye exam. Beyond the common problems of near or farsightedness, comprehensive eye exams can also diagnose issues such as ocular surface disease, retinal tears and other eye diseases such as glaucoma or macular degeneration.
It is estimated that over 4 million Americans have glaucoma, but only half of them know they have it. Glaucoma can cause blindness, and in most cases, people have no symptoms. Macular degeneration affects about 2 million people and it is the leading cause of vision loss in people over the age of 60.
Furthermore, eye exams often help detect signs of high blood pressure or other cardiovascular problems by examining the blood vessels inside the eye. For individuals with diabetes, high blood sugar levels can affect sight by causing damage to retinal vessels, resulting in diabetic retinopathy, which can lead to diabetic macular edema and vision loss. You may not notice any change in your vision in the early stages of diabetic retinopathy, and these changes often remain unnoticed until vision loss occurs.
In rare cases, more alarming conditions such as ocular melanomas can also be diagnosed during an eye exam.
Early detection and diagnosis of these conditions are most important in preventing loss of vision. A thorough dilated eye exam can detect these issues and many more. Vision impairment and blindness can seriously impact your quality of life, so taking control of your eye health now will help make sure you can see well into the future.
Make your eye health a priority in 2020 and schedule an annual eye exam today with Elmquist Eye Group's team of highly skilled associates. It's easier than going on a diet or starting an exercise regimen, but it could be just as critical for your health.
With more than 25 years of service to the Southwest Florida community, Elmquist Eye Group offers experienced doctors who are dedicated to patient care. Dr. E. Trevor Elmquist, Dr. Kate Wagner, Dr. Sarah Eccles-Brown and Dr. Nina Burt of Elmquist Eye Group are available to answer your questions. With three U.S. military veterans leading the practice, rest assured knowing that Elmquist Eye Group's team stands ready to serve you with knowledge and experience right here in Southwest Florida.
For more information, visit www.Elmquist.com, call 239-936-2020 or stop by an Optical Boutique location in Fort Myers or Cape Coral.
FORT MYERS
7970 Summerlin Lakes Drive
CAPE CORAL
2336 Surfside Blvd., Suite 121