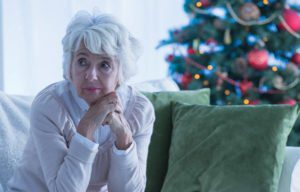 For most people the holiday season is a special time of year spent with family and friends building lasting memories. But for others the holidays evoke feelings of stress, sadness and loneliness. An increase in stress, a busy work schedule and missing loved ones (who are no longer with us) are all triggers, which can lead to depression over the holidays. People who have struggled with adverse life events such divorce, unemployment, bereavement, chronic medical problems, psychological trauma, alcohol or substance abuse are more likely to develop depression.
Symptoms of depression include feelings of sadness, frequent crying episodes, loss of interest in social activities, decreased sex drive, changes in appetite, insomnia or excessive sleeping, fatigue, feelings of worthlessness, helplessness, hopelessness, guilt, recurrent thoughts of death or suicide and poor memory.
Dr. Gregory Arthmann is a comprehensive Psychiatrist practicing at Bayfront Health Medical Group. Dr. Arthmann has over six years' experience in the diagnosis, management, and treatment of adult psychiatric patients in both inpatient and outpatient settings.
We caught up with Dr. Arthmann to find out more about treating depression.
Q: What treatment and methods do you use to treat depression?
A: It's entirely dependent on their diagnosis and disorders. I always take into consideration what's best for a patient. My treatment is typically multifocal; in that, I provide pharmacotherapy and psychotherapy. If indicated I also utilize electroconvulsive therapy, specifically in medication resistant major depression, bipolar disorder and schizophrenia. But again, it all depends on the particular person and the severity of their disorder.
Q: What is Electroconvulsive Therapy?
A: Electroconvulsive Therapy (ECT) is one of the most well-studied and effective treatment options we have available today for medication resistant psychiatric disorders. ECT has been effectively used for over 80 years. Unfortunately there is a common misconception that ECT is a painful form of "shock therapy." Most individuals are not aware of the safety and efficacy of ECT therapy. It is performed under general anesthesia, so the patient is completely relaxed. It's nothing like what you see in the Hollywood movies. The American Psychiatric Society (APA) has established clear guidelines for the use of ECT. It is considered safe and effective for pregnant women, adolescents, and the geriatric population. Around 100,000 people a year receive ECT in the United States.
Q: What does ECT treat?
A: It treats many psychiatric disorders including major depressive disorder, bipolar disorder, suicidality, schizophrenia and catatonia. A treatment course typically lasts several weeks however it will vary depending on the patient's response. Today's evidence shows that ECT is a valuable, often underused treatment that could help manage and reduce symptoms in patients with serious and persistent psychiatric illnesses. The National Institute of Mental Health, the American Psychiatric Association, the American Medical Association, the U.S. Surgeon General and similar organizations in Canada, Great Britain and many other countries all endorse ECT as a valuable tool in the effective treatment of severe mental illness.
ECT Basics: Electroconvulsive therapy (ECT) is a medical treatment option most commonly used to treat patients who suffer from major depressive disorder, bipolar disorder, or schizophrenia when other treatments including medications and psychotherapy haven't worked. ECT is also used in treating individuals with catatonia. Many patients begin to see improvement after only a few treatments.
According to the American Psychiatric Association, clinical evidence indicates that for individuals with severe major depression, ECT will produce a substantial improvement in symptoms in nearly 80% of the patient.
During an ECT treatment the patient remains under general anesthesia while a brief electrical stimulation is administered to the brain. This causes a seizure in the brain that will last for approximately one minute.
Dr. Arthmann is currently the only provider in Charlotte County offering ECT as a form of treatment.
Dr. Arthmann Provides Psychiatric Treatment for the Following Conditions:
• Depressive disorders
• Anxiety disorders
• Bipolar and related disorders
• Schizophrenia spectrum and other psychotic disorders
• Catatonia
• Attention deficit hyperactivity disorder (ADHD)
• Eating disorders
• Obsessive-compulsive and related disorders
• Trauma and stress-related disorders
• Personality disorders
• Substance-related and addictive disorders
Dr. Arthmann treats young adults to geriatrics, and his experience includes substance abuse rehabilitation, behavioral, depressive and psychotic disorder treatment, consultative therapy, emergency visits, and general psychiatry. He graduated from the University of Sint Eustatius School of Medicine in St. Eustatius, Netherlands Antilles. He completed his residency in internal medicine at Wellspan York Hospital in York, PA, and residency in psychiatry at East Carolina University Brody School of Medicine in Greenville, NC.
Dr. Arthmann works out of the Bayfront Health Medical Group's Punta Gorda Office. He will be taking consultations from the greater area and looks forward to helping you and your family find answers to your mental and behavioral health needs.
Please call (941) 909-2396 for an appointment.
Bayfront Health Accepts most Major Insurance Plans
713 E. Marion Ave., Suite 139 (3rd Floor)
Punta Gorda, FL 33950
(941) 909-2396