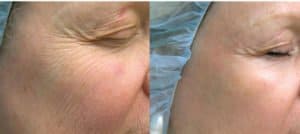 The holiday season evokes feelings of joy by celebrating with family and friends, attending holiday parties, special events and gift giving, but alongside all of the "Fa La La" often comes a bit of stress, overindulgence and rushing from here to there. This fast-paced time of year can wreak havoc on our skin from dehydration, a poor diet and anxiety, but physicians and their staff at Marlowe & Marrs have got you covered. And what better time of year to gift yourself, or the ones you love with a few antiaging and aesthetic treatments.
Non Invasive, Non Surgical Treatments with NO Downtime
In the spirit of the holidays, we have a limited time offer of 2 treatments for the price of one special for the month of December.
Aesthetic & Med Spa Services
• Body Sculpting
• Injectables (Botox and Fillers)
• Non-Surgical Facelifts
• Scar Treatment
• Skin Tightening
• Laser Skin Treatment
• Tattoo Removal
• Hair Removal
• Cosmetics & Skincare Products
Skin Tightening & Wrinkle Reduction
Marlowe & Marrs is proud to bring state-of-the-art technology to its patients who seek a more youthful appearance. We are pleased to offer the TempSure® Envi, an RF energy delivery system that is safely and effectively used for aesthetic purposes. RF energy delivers controlled heat to skin tissue for the purposes of stimulating collagen and elastin production, which then produces skin tightening and wrinkle reduction, and improves the appearance of cellulite. The end result is tissue remodeling that yields beautiful skin. It is safe for all skin types and colors.
The Envi targets such problem areas as:
• Forehead lines
• Frown lines
• Crow's feet
• Smile lines
• Chin wrinkles
• Areas of cellulite on the body
With the Envi, there are no needles, no downtime and no surgery.
Laser Skin Treatments
ICON® Laser Treatment for Wrinkle Reduction and Sun Damage
Say goodbye to tired, dull skin and hello to a brighter, younger-looking you! Only Three For Me™ ICON® laser treatments address the three common skin concerns of wrinkle reduction, sun damage reduction and vein reduction, within one procedure. The procedure is only 30 minutes and has minimal downtime, getting you the best results possible, while still fitting within your busy schedule.
Body Sculpting with SculpSure® Body Contouring Fat & Cellulite Reduction
SculpSure®, or warm sculpting, is a non-surgical alternative to cool sculpting for fat reduction and body contouring. Make this year the year you finally get rid of those pesky love handles, flabby arms or muffin top with SculpSure®, a non-surgical body contouring treatment. SculpSure® sculpts the body by eliminating stubborn fat and trouble spots that are hard to get rid of through just diet and exercise. During the procedure, light-based energy applicators are placed onto the treatment area to injure fat cells. In the subsequent weeks, the body will naturally and permanently destroy the injured fat cells, resulting in a slimmer figure.
The procedure itself takes approximately 25 minutes and can be used to treat different areas at the same time. You can expect to see the slimming results in as little as six weeks!
Long Lasting Results
SculpSure® is a truly revolutionary way to reduce stubborn, unsightly areas of fat. Unlike other forms of fat removal, the procedure is non-surgical, and you don't risk damaging your system with cold methods (CoolSculpting®) of fat reduction. It involves use of highly controlled warming to the affected area, which essentially kills fat cells. Over time, the treated fat cells are naturally processed and eliminated by the body, leaving you with a noticeably slimmer physique. Better still, the after-effects are noticeable and long-lasting. SculpSure® is a quick, simple and gentle process. It is FDA cleared, which means it is officially approved as being a completely safe way to eliminate excess fat cells.
Many more treatments are available with the Marlowe & Marrs team. They will be happy to discuss your body image goals and help determine the treatments that will enable you to achieve them.
This Holiday Season Give Yourself the Gift of a More Youthful  Appearance  and see how looking younger leads to feeling younger.
To find out more, please visit marlowemd.com/body-sculpting or call 941.303.8590