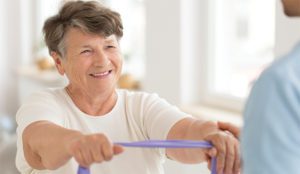 During the month of October, The nation recognizes and celebrates the importance of rehabilitating treatment options through Physical Therapy (PT). PT can help patients improve their overall physical health and well being in countless ways. Since every patient's needs are different, many therapies are adjusted to specific patient-centric approaches depending on their individual circumstances. Physical therapists work directly with your physician to evaluate, map out and report on your progress during treatment.
If you have limited functional mobility or musculoskeletal damage, your physician should recommend you for physical therapy to minimize your pain, retrain your muscles, and get you back to the best state of recovery as possible. This includes your movement, correcting imbalance and perfecting your range of motion.
At some point in their lives, at least 50 percent of the U.S. population will develop a balance issue. Many of these circumstances happen to the aging population, between the ages of 50 to 75, and most of these are related to vestibular issues.
Patients suffering from vestibular related disorders often times experience vertigo, dizziness, nausea, migraines, gait issues (walking), and imbalance. In addition, many patients complain of mood changes and cognitive impairment. Usually, these symptoms stem from issues in the inner ear. More than 69 million Americans have experienced some form of vestibular issues in their lifetime, and that number is on the rise.
The most common form of vestibular issues is Benign Paroxysmal Positional Vertigo (or BPPV)
• Benign –Not life-threatening
• Paroxysmal –brief spells-comes and goes
• Positional – Triggered by certain head positions or movements
• Vertigo – A false sense of rotational movement
Tiny crystals in the inner ear that slough off and get lodged in the fluid of the ear canals cause BPPV. It can be effectively treated with a simple manual therapy that moves the crystals through the ear, improving and in many cases alleviating vertigo and the sensations of dizziness.
Physical therapists understand the importance of balance and walking for a self-sufficient lifestyle, and the ability to maintain daily activities. Whether those activities are at work, play, exercise or just simply getting around. There are numerous programs and therapies to help treat multiple balance issues.
Some of the most successful physical therapies are as follows:
• Assessment and Evaluation Programs
• Difficulty Walking
• Fall Prevention and Balance Retraining
• Fitness and Wellness Programs
• Functional Training
• Gait Training and Balance Programs
• Manual and Massage Therapy
• Vestibular Rehabilitation
McKenney Home Care, in Naples Florida provides exceptional in-home health services and client-
centered care. With a passion for maximizing the quality of life of their clients and their families, they are driven to ensure social engagement and specialty services during all stages of life.
If you or someone you know would like more information about McKenney Home Care, please call McKenney Home Care at 239-325-2273, or visit mckenneyhomecare.com.
CALL US TODAY!
239-325-CARE (2273)
9655 Tamiami Trail North #201
Naples, FL 34108